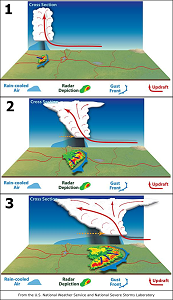 "Derecho" is a Spanish word meaning "straight ahead". It is also the name for severe thunderstorms with winds up to 150miles per hour.
These devastatingly strong storms can travel to speeds of up to 60 miles per hour and can flatten a forest. Their damage is often equivalent to hurricanes or tornadoes. The most recent derecho happened on July 19, 2017. The storm did not rise up to its maximum capacity but had wind gusts of up to 70 miles per hour.
The build up of a derecho is a line of thunderstorms that form around the area of a stationary front. These storms drag down high-speed air and cause high winds that push the thunderstorm on.
Derechos most commonly occur in the summer. When they form, they can cover 1,000 miles. For example, this past July's derecho started in South Dakota and traveled to Indiana, Ohio, Wisconsin, and finally Illinois, where it weakened.
Derechos are devastating and strong storms. Knowing more about them can keep you prepared for what's coming.
[Sources: Wisconsin State Journal; The Weather Channel]