Is Our Drinking Water Safe?

EPA Launches Initiative to Monitor Chemicals

by Parwat Regmi, age 17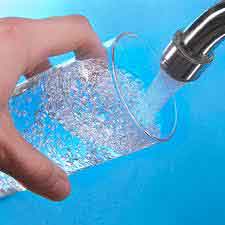 Is the water we drink safe? According to Lisa P. Jackson, administrator of the Environmental Protection Agency (EPA), there is some cause for concern.
"There are a range of chemicals that have become more prevalent in our products, our water and our bodies in the last 50 years," Jackson said in a speech earlier this year. Her agency hopes to tackle safety policies related to drinking water by implementing new regulations on water utilities and industrial polluters.
The EPA has identified many industrial chemicals that could seep into and pollute our water systems. Jackson says the EPA is also preparing new standards for four carcinogens (cancer-causing chemicals) often detected in tap water.
An analysis of federal data conducted by The New York Times found that more than 20 percent of the nation's water treatment systems have violated key provisions of the Safe Drinking Water Act over the last five years. Research by the newspaper shows that current laws are sufficient but often ignored. According to the paper's report the Safe Drinking Water Act and the Clean Water Act have been violated "more than half a million times" during that recent five-year period.
Laws that control chemicals in the water system are continually violated. Some experts say that those responsible for the pollution can easily evade punishment.
Dr. Pankaj Parekh, a director of the water quality division for Los Angeles, agrees that the EPA's new reform policy will "help us talk about health impacts, rather than long, complicated chemical names."
But there are many EPA skeptics in Congress, and even within the agency itself. One EPA regulator told The New York Times "There is a history of this agency making big announcements and then changing very little." This EPA staffer also said, "The real test will be to see how many new chemicals are regulated in the next six months."
EPA executives say they are determined to control harmful elements such as lead, copper, arsenic, and perchlorate (an additive to rocket fuel) in the drinking water Americans use every day.
Currently, the EPA only regulates 91 contaminants in drinking water. No new chemicals have been added to its watch list in the last decade. About 60,000 chemicals are used within the United States. Other critics say that EPA regulations have failed to adjust to evolving water-processing technologies. The result, according to some experts, has been uncontrolled contaminants in our water supply. Initiation of new policies will likely involve the use of more advanced technologies. These are expensive and could result in higher water rates.
Lack of a centralized database has prevented the EPA from gathering facts about trends in public water usage and the chemicals that pass through local water systems. The new reforms the EPA is proposing will strictly regulate water treatment and centralize data. The agency hopes to begin enforcing its new rules before the end of the year.
Brian Ramley, director of the Newport News Waterworks in Virginia, says, "There has been a reluctance to get tough in the
past, and hopefully this signals that things have changed."
[Sources: The New York Times; USA Today]