Common Chemical Herbicide Found in Many Drinking Water Systems

Research Shows Genetic Changes in Frogs Exposed to Atrazine

by Eleazar Wawa, age 15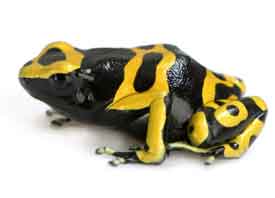 New research shows that a common herbicide called atrazine adversely affects certain species of amphibians. In the United States atrazine is a common weed-killing chemical. It is also a contaminate found in well water and drinking water. Scientists now know that this chemical causes some unusual changes in the sex genes of male amphibians, in particular, frogs.
An experiment was conducted recently at the University of California at Berkeley. The experiment exposed frogs to high levels of atrazine to see how the herbicide affected their sex cells. The chemical caused some male frogs to grow eggs in their sex cells. About 10 percent of the male frogs tested had their sex altered completely and became female.
While some frogs were exposed to higher levels of atrazine than others, by the end of the experiment nearly all the male frogs had significantly lower testosterone and sperm levels. These transformed frogs were then capable of being impregnated by males. Many even laid eggs. Although their hormones were significantly changed, their genes remained male, resulting in all male offspring.
Lead researcher Tyrone Hayes says that even though the experiment was successful, it does not prove conclusively that atrazine can affect humans in similar ways. Yet, scientists are not prepared to rule out atrazine as a dangerous chemical contaminate in drinking water or groundwater. Other studies link atrazine exposure among humans with incidents of birth defects, lower sperm counts, and even premature births.
In the United States, atrazine is the most commonly used herbicide. It's used mostly for agricultural purposes. In a nationwide water study conducted by the U.S. Geological Society, 40 percent of groundwater samples and 75 percent of stream water samples contained atrazine.
The Natural Resources Defense Fund, an environmental advocacy group, says the manufacturers of atrazine should be held responsible for contamination of water resources with their product. Jennifer Sass, a scientist with the Natural Resource Defense Fund, says her group detected atrazine in 90% of tap water samples taken from 139 water systems around the country.
A company called Syngenta Crop Protection is the leading manufacturer of atrazine. That company's scientists say the chemical is safe. Company-sponsored studies that met Environmental Protection Agency (EPA) standards found that atrazine has "no effect on frog sexual development," according to Tim Pastor, a scientist with the company.
In Illinois, where atrazine is commonly used on corn and other crops, several local water systems are suing Sygenta Crop Protection and other companies that market the product. Manufacturers of the herbicide claim there's no reason to remove atrazine from public use.
The EPA recently announced that it plans to look at and reassess Atrazine's safety, including its cancer risk.
The European Union has already banned the chemical.
[Sources: USA Today; National Academy of Sciences; Chicago Tribune]