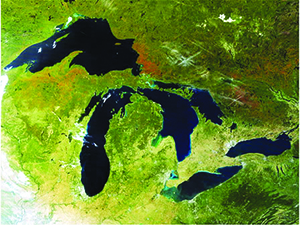 Fifty thousand years ago was ice age time in Madison. The region we live in now was covered with glaciers. These glaciers reached a height equal to five of our state capitol buildings on top of each other. As temperatures warmed and the ice began to melt, the glaciers slowly started to move, gouging holes into the land. The holes filled up with the melted water and became Lakes Mendota, Monona, Waubesa, and Kegonsa.
In 20,000 B.C., Wisconsin was covered in glaciers. Then in 15,000 B.C., the glaciers slowly began to melt. By 10,000 B.C., the first native people started to arrive, and in 5,000 B.C., the Madison lakes took their current shapes.
The animals that lived during the Ice Age were amazing. For example, the saber-toothed tiger was larger than a modern lion and weighed about 440 pounds. These tigers were famous for their long canine teeth, which could grow to eight inches in length.
The giant beaver was another animal that lived during the Ice Age. It was one of the largest rodents that has ever lived on Earth. The size of a modern black bear, it stood at six to eight feet and weighed 400 to 500 pounds. In other ways it was very similar to today's beavers, but it had a narrower tail and shorter hind legs. Giant beavers' front incisors were lengthy, growing to six inches.
Mastodons were another mammal species that lived in the Ice Age. They were smaller than mammoths, covered in shaggy hair, with tusks about nine feet in length. Mastodons had large, sturdy legs, and a big muscular trunk. Adult mastodons grew to be six to ten feet long and weighed between 3,500 and 5,400 pounds. Their diet consisted of plants, grass, bark, tree branches, shrubbery and herbs.
If the glaciers hadn't melted, we would still be living in a state of ice,
trying to survive among huge and frightening animals.

[Sources: Madison City of Four Lakes; Atlas of North America]