The Day the Earth Collapsed

Enormous Sinkhole Causes Destruction in Guatemala City

by Cecilia Gonzales, age 15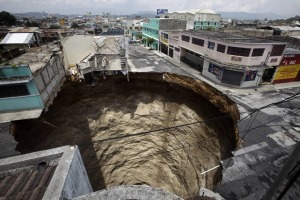 An enormous sinkhole recently formed in the middle of Guatemala's capital city. Because it caused massive destruction to the city, Guatemala's huge sinkhole is considered among the most tragic events in the history of that Central American country.
Sinkholes can occur in any dissolvable rock. Limestone and sandstone are examples of dissolvable rock. When water runs constantly through the rock over many years, the rock surface begins to weaken. This can lead to sudden collapse.
Obviously the sudden and ferocious collapse of this sinkhole surprised and terrified residents of Guatemala City. And in one way this sinkhole was also unexplainable. It formed a nearly perfect, enormous, round cylinder. When the dirt and rock and concrete settled, the remaining hole was about 66 feet in diameter and about 100 feet deep.
David Monterroso, geology director of the country's Disaster Relief Agency, said that sewers and water lines could have caused the irregular formations at the bottom of the sinkhole.
Unfortunately, that didn't convince the more than 1,000 readers on CNN.com who commented on the story. Immediately there was debate about whether the online photograph was a fake or real. Many readers thought it might be a photo-shopped picture because of the sinkhole's unusual shape. Others were convinced that it was real. Guatemala is a nation where mudslides and similar events occur fairly often.
The center-city neighborhood of Guatemala City suffered major damage and disruption. The sinkhole left enormous destruction behind. It is an area with heavy commercial traffic. Some think this was the cause. Others believe it was just a horrible natural disaster.
But whatever it was, the event took many buildings and homes with it. Now Guatemala City's residents have to live with an enormous sinkhole in the middle of their city.
[Source: www.cnn.com]