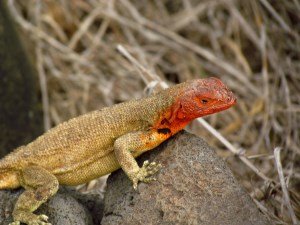 The lava lizard gets its name because it is found in groups that sit under the sun and on top of hardened lava. In addition to their common name, the lava lizards' scientific name is Microlphus and its Spanish name is lagartija de lava
It is nearly impossible to tell the difference between two lava lizards based on their physical appearance alone. The Male lava lizards have brighter colors and yellow specks or gold stripes. But the female lava lizards can have red throats or red heads. They get as big as 20 to 25 centimeters long and their average life span is 10 years.
Male lava lizards are very territorial and they protect about 400 square meters of space. Male lava lizards do push-ups to intimidate their opponents by making themselves look bigger and stronger, and make them stay out of their territory. But if that does not, work their last resort is to slap opponents with their tails or bite.
Lava lizards' conservation status is rated vulnerable. This means that they are not endangered, but they still face many threats like natural predators, humans, and global climate change.
The fact that they can sit on top, of lava without burning themselves is cool and unique.
[Source: Galapagos Conservation Trust]