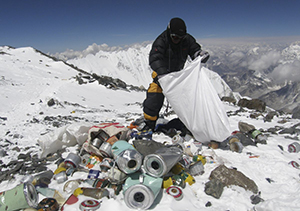 The world's highest mountain, Mount Everest, is also known as the world's highest dump. For 60 years, climbers have been hiking this Nepali mountain and leaving their trash behind.
In order to lighten their loads, Mt. Everest climbers often litter when traveling down the mountain. They leave many items including cans, tents, food wrappers and equipment. To clean up this national treasure, Nepal's government paid legal attention that went into effect April of 2014. Before climbing trekkers must now pay a deposit of $4,000 and promise to carry down 18 pounds of their own trash, when leaving the mountain—the average amount they leave behind. If they fail to do this, they lose both their climbing permit for their next trek and their deposit.
The Nepal government plans to enforce this rule on other mountains in the country. They hope doing so will result in cleaner mountains, effective immediately.
[Source: Time for kids, Alantarnette]