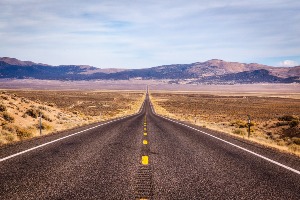 In America, "the loneliest road" is located in Nevada on U.S. Route 50. It's the opposite of Las Vegas, with no big casinos or bright lights. Route 50 is a long road and a quiet place.
We live on an industrial and busy planet. Our cities are usually crowded with people and cars that create noise and light pollution. Even some of our national parks have become overpopulated and less peaceful than expected. Route 50, however, is just mountains and clear land.
The highway reaches over 3,000 miles from West Sacramento, California to Ocean City, Maryland. The Nevada section crosses 17 mountain passes along its 408-miles from the California border, near Lake Tahoe, to the Utah border, near Great Basin National Park. The best times to visit the highway are during the spring and fall when it has the weather most comfortable, but it can still reach a little below freezing at night. Along Route 50, there are five campgrounds where you can stay; you can park RVs or pitch a tent between Austin, Nevada, and the Utah border.
A cyclist named Leonie Sherman decided to bike the entire Nevada portion of the highway by herself. She finished the whole ride in four days, ending at the Great Basin National Park. She said she found a warm, wild joy during the bike ride: "Pedaling hard along the straight road put me in a zen-like stupor." She hadn't seen another human in days after she arrived on Route 50, putting her in a mood to contemplate a lot, but while still feeling relaxed too.
Route 50 provides a "healthy dose" of uncrowded spaces with the lack of cars and noise. It's a quiet and calm path to travel and relax. Sherman said, "Traversing it by bike taught me to appreciate the unique solitude it offers."
[Source: Sierra Magazine ]