New Children's Museum Makes a Great Addition For Madison

by Masha Vodyanik, age 13 and Shreya Dahal, age 14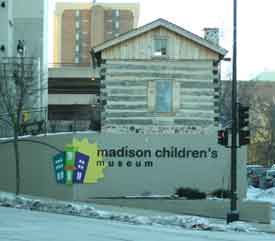 A team of Simpson Street Free Press reporters recently took a trip to the Madison Children's Museum. In its new location, 100 N. Hamilton Street, this new building is one of the eco-friendliest places in Madison.
Many years ago the Children's Museum started out as a mobile museum; an old station wagon carrying small exhibits around town to many different places. In the early 1980's, the museum found a home in the basement of the Academy of Arts. Visitor response was so positive that it quickly outgrew that location and in 1983, moved to the basement of the Old Bassett Warehouse on West Washington Avenue.

On April 1, 1985, the museum was officially opened with its first full-time staff member and director, Georgia Heise. Many of the staff were volunteers. With a budget of $100,000, the museum served over 20,000 visitors. Within the first two years, another full-time staff member was added and attendance more than doubled. Between 1991 and 2005, the museum moved twice.
Recently, with a 10 million dollar grant, and a fundraiser sponsored by American Girl, they built their newest building. It opened on August 14, 2010. This new museum was built to attract a broader age-range, with a stronger learning program focused on arts and sciences.
Green building styles and sustainability are the themes with this new construction. For example, most of the materials are local and natural. Rather than plastics, natural materials like wood, glass, and sand are used as much as possible in the exhibits. These materials don't leak chemicals or toxic fumes. The museum claims that children actually learn better using natural materials. Over 100 local artists took part in decorating the museum. Three hundred local schoolchildren designed tiles for bathrooms, and 30,000 other children made bottle cap art for the mosaic.

One thing that was of special interest to us was the biodegradable coffee cup lids from the café. They intrigued us because most coffee cup caps are made of plastic that is not recyclable in Wisconsin. Non-biodegradable coffee lids don't decompose when they are in a landfill, but the lids from the Children's Museum do. This is, of course, much better for the environment.

Madison's new Children's Museum is an eco-friendly building, built to help kids develop a better understanding of their environment. And it is not only children who benefit from these fascinating exhibits. The whole family can learn new things and enjoy a variety of activities at the new Children's Museum.
We strongly recommend you plan a visit to the Madison Children's Museum soon. This is a trip your whole family will enjoy.

[Source: www.MadisonChildrensMuseum.org]