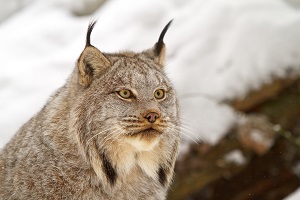 From housecats to deadly striped tigers, cats are everywhere. But most cats can't hear like a Lynx can. The fluff on the tip of this animal's ears serves as a megaphone that amplifies the sound of its prey in the distance.
Every cat has killer instincts—its own superpower, so to speak. The forest-dwelling lynx can hear its prey from 250 feet away. These silent killers tend not to make much noise as they approach their prey.
A lynx is typically about 18-24 inches tall, two to four feet long, and 15 to 35 pounds. This lethal cat can jump up to 12 feet and usually lives up to 15 years. A male lynx weighs more than its female counterpart. Their mating season runs from February to May. Mother lynxes remain pregnant for two months and, after giving birth, they stay with their kittens for about a year.
The Canada lynx, one subspecies of this cat, lives in the northern forests of Alaska, Canada, Montana, Washington, Maine, and Minnesota. However, it once had a larger range that included the Rocky Mountains. Canada lynxes have snowshoe-like paws with a layer of fur that touches the ground in a spreading motion, thus enabling them to walk across snow and ice with ease. Also, their fluffy fur keeps them warm and allows them to camouflage into their densely wooded surroundings.
Despite their adorable, housecat-like appearance, lynxes are ferocious creatures on the prowl for prey. Don't underestimate this fierce cat; in this case, looks certainly can kill.
[Sources: National Geographic; 100 Things You Should Know About Wildcats; Pennsylvania Wildcats; maine.gov]