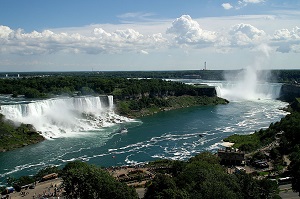 One of the most well-known wonders of the world, Niagara Falls, has existed for nearly 10,000 years and lies on the Canadian-U.S. border.
The Niagara River leads to the falls. Its bedrock is made of dolomite rock and is layered under softer sandstone and shale. These softer rocks have eroded, however, thus causing the dolomite to collapse from the force of the river's fast-flowing water. Little by little the water has retreated three feet per year leaving a deep gorge. This is significant because the falls are 1,000 feet farther upstream today than they are when French explorer Louis Hennpin and others visited in 1687. The more recent construction of a channel diverts the water from the falls, which generates electricity and stabilizes the falls.
Niagara Falls is actually made up of two waterfalls: American Falls and Horseshoe Falls. The river appears to be a dark green glass color, and where it meets the drop off, it becomes white foam flying over the edge, falling a total of 167 feet. The powerful waters of Niagara Falls have inspired people to challenge themselves by going over the Falls in barrels, boats and sealed capsules. And, in June of 1859, Jean Francois Gravelet defied death when tight-roping 1,100 feet across Niagara Falls.
Many who have visited Niagara Falls say it is one of the most breathtaking views in North America.
[Sources: 100 Great Wonders of the World; niagarafallslive.com]