The Nicaragua Canal is a Controversial Proposal
by Lucy Ji, age 16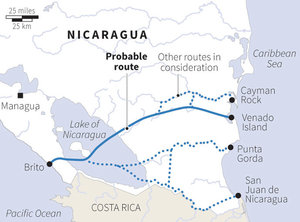 President Ortega of Nicaragua has a vision of creating a cross-country shipping canal much like the Panama Canal. In June, Hong Kong Nicaragua Canal Development Investment Company was given approval to build the $40-billion structure.
The company is enthusiastic about this canal. It would shorten the distance of cargo ship routes, help large businesses and bring money into Nicaragua. Although Nicaraguan lawmakers share this enthusiasm for the project, important details about its implementation have not been released.
Past proposals offered two possible construction sites: along the San Juan River or through a large drainage area. Both sites are contentious. There are land disputes over the San Juan River area due to several binding international treaties. The creation of the canal would require each treaty's approval. The drainage area on the other hand, supports most of the country's farmable land. If this area were destroyed, the country would lose a valuable source of water, which would directly affect agricultural production.
Many experts are doubtful of the project. "It's not going to happen, that was my first reaction," said Noel Maurer, an associate professor at the Harvard Business School who has studied the Panama Canal. A pipe dream might be too strong, but I would just consider it a really bad investment."
Experts are also hesitant about environmental impacts of the project, such as destruction of natural habitat and losing a sustainable water supply. This project would destroy over 180 miles of tropical rain forest, more than three times as much land than was lost during the construction of the Panama Canal. Massive amounts of water would have to be constantly pumped into the canal to support the weight of the freight ships.
Protest groups are forming already, including The Movement for Nicaragua, a coalition of civil-society groups, stating "Nicaragua isn't for sale. Nicaragua belongs to all Nicaraguans and isn't the private property of Ortega and his family."
Although the project was approved, many believe the chances of success are slim.
[Source: The New York Times]