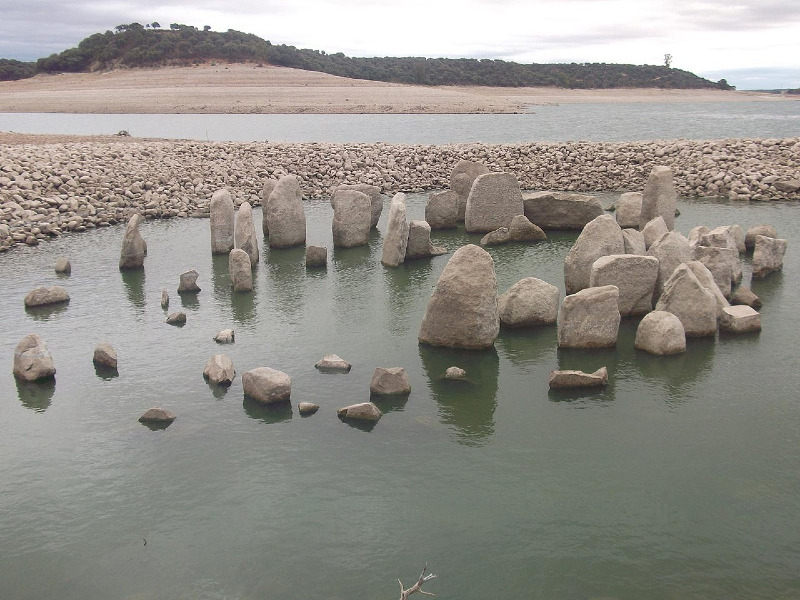 Ancient Underwater Monument Exposed by Dry Weather
by Abigail Comerford, age 15
A summer of droughts in Extremadura, Spain, brought the Dolmen of Guadalperal--a prehistoric monument--back to the surface to be appreciated and studied by archeologists all over the world. Droughts, known for wreaking havoc on small towns and farms, are actually goldmines for archeologists; they allow them to look further into the past and study monuments that would typically be covered by water, such as the Dolmen of Guadalperal.
In past years, water levels in the Valdecañas Reservoir have fluctuated, causing tips of some of the stones to peek through, but the 2019 droughts revealed the entire monument, which is a very rare occurrence.
During Francisco Franco's attempt to modernize Spain, his regime carried out many civil engineering projects, including building a dam and the Valdecañas Reservoir that flooded in 1963. These floods and man-made lakes resulted in many monuments hidden under water.
This 7,000-year-old megalithic monument consists of about 100 standing stones, some of which are nearly six feet tall. The monument now stands only a few dozen yards away from the edge of the water; however, this is only temporary. Traces of aquatic plants on and around the rocks show that this monument will soon be hidden once again.
Although the Valdecañas Reservoir was beneficial to many parts of western Spain by supplying water and electricity, the flooding it caused was tragic in many ways. "From the historic point of view, it drowned these megalithic monuments and most of the remains of a Roman city called Augustóbriga. From the human point of view, an inhabited town was flooded and people were forced to move out of their homes," says Angel Castaño, president of the local cultural association and resident of Peraleda de la Mata, a village not far from the reservoir.
This stonehenge, along with others like it all over the world, was used as a burial ground or as a site of ritual. Markings on the stones at the entrance of the dolmen include a human figure and what is believed to be a snake. One theory for the meaning of the markings is that the squiggly line that is thought to be a snake could also represent the Tagus River, although this theory is not very likely. "...[F]rom my archeological understanding, I would say that the line is geometric and similar to ones found in megalithic art across Europe. In this case, it could be identified as a serpent," claims Primitiva Bueno Ramirez, a specialist in prehistory at the university of Alcala.
According to Ramirez, when the monument was intact, people would have entered through a long dark hallway before entering a larger main room where the dead would be placed. This level of construction at that time would have been extremely difficult and arduous, taking a lot of effort.
Ramirez claims that proper study of the monument must occur before the stones are moved to permanently dry land. "It may cost money, but we already have one of the most difficult things to obtain, this incredible historic monument. In the end, money is the easy part, the past can't be bought."
[Sources: Atlas Obscura; Smithsonian Magazine]