How I Got to Madison

Part III of Special Series by the Writers of the Simpson Street Free Press

by Masha Vodyanik, age 13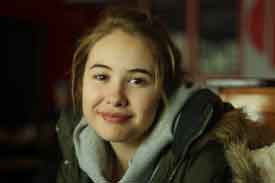 I moved to Madison, with my family seven and a half years ago. I am very glad my parents decided to move here, but it took a while to settle in.
Before we moved here, I lived in Kiev, the capital city of Ukraine. I really enjoyed living there because of the rush of the big city. I had great friends and participated in many activities including theater and dance. My dad came to Madison in 2002 because of his job at the University of Wisconsin as a scientist. My mom and I joined him a year later, about a month after I turned six.
I was disappointed to leave my relatives, and all of my friends in Kiev. But on the other hand, I was very excited and could not wait to see what America was like. Everyone was very anxious; as we boarded the plane I could tell my grandmother was sad. It was hard to say goodbye.
The plane ride seemed long and boring. Nevertheless I enjoyed the airplane food and watching one of my favorite movies – Harry Potter and the Chamber of Secrets. After an eight-hour flight, we finally arrived at the Chicago O'Hare airport. I was so exhausted that I immediately fell asleep on the ride to Madison.
When I woke up, we were just pulling into our apartment's parking lot. Everything looked very different from Kiev. It seemed strange that there were no skyscrapers, busy streets, or subways, just one or two story buildings, empty streets, and a lot of landscape.
The first six months in Madison were tough. I missed all of my close friends. And since we didn't own a car yet, we had to walk everywhere to buy what we needed. The nearest grocery store was about 15 minutes away, whereas in Kiev there was a small grocery right across from our house. My biggest problem was the fact that I did not know any English. Luckily, I attended a camp that summer and began to learn English there. One of the very first phrases I learned was, "Milk, please."
Even though I have lived in Madison for more than half of my life, I still have not forgotten my language or culture. At the same time, I am learning a new way of life. Sometimes I wonder what my life would be like if we had not moved to Madison. But I feel very lucky to live in a town with such great opportunities, like working at the Simpson Street Free Press.

[Follow the "How I Got to Madison" series at www.simpsonsstreetfreepress.org]