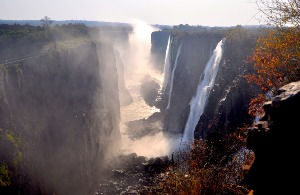 Victoria Falls is the largest waterfall in the world. It is also known as Mosi-oa-tunya, meaning "smoke that thunders."
Scottish explorer and scientist David Livingstone discovered Victoria Falls on the border of Zambia and Zimbabwe in the fall of 1855—or at least he was the first European to witness its powerful beauty. Very impressed by the massive waterfall, Livingstone described its mist like "thundering smoke." He then named the waterfall after Queen Victoria of England.
The "thundering smoke" to which Livingstone referred is the fine spray from the waterfall that rises about 1,000 feet above the Zambezi River. The natural beauty's water falls over the edge of its gorge at a rate of 150 million gallons per minute and cascades 360 feet. The waterfall is one mile wide.
For 500,000 years, Victoria Falls has flowed out of the Zambezi River, which is the fourth largest river in Africa. Recent geological research proved that it formed during the Late Jurassic period. Interestingly, under the waterfall's riverbed, the Earth's crust shifts: this causes the waterfall's course to change. Because of this, scientists indicate that some of the river's waterfalls will likely disappear one day.
In 1972, Zambia and Zimbabwe declared Victoria Falls a national park. This ensures the great waterfall's protection, so visitors can appreciate and wonder at its magnificence for years to come.
[Sources: 100 Wonders of the World; eyewitnesstohistory.com]