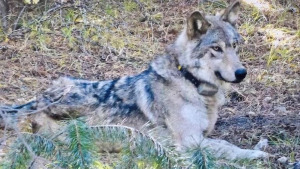 OR-54, a beloved and well-known gray wolf, died recently in California, having played an important role in enhancing the grey wolf population. Only recently has the federal government passed a law making the gray wolf endangered in California and Oregon, an effort meant to protect the species.
In 2017, OR-54 gained fame by traveling almost 9,000 miles from Oregon to California—two places where wolves had been wiped out and then reintroduced.
Her journey started in Oregon where the Fish and Wildlife Service, an organization that keeps track of endangered species, started to follow her whereabouts. They used a radio collar to monitor her travel from Oregon to California to find a mate. Her journey lasted from 2017 until this year, when she died in California from unknown causes.
OR-54 was part of the well-known "Rogue Pack." Her father, OR-7, was the founder of the pack. This wolf had his own famous journey to California, just like his daughter, OR-54.
The well documented journey of Wolf OR-7 sparked the legislation to protect the gray wolf as an endangered species. The death of OR-54 is a setback in the ongoing process of reintroducing gray wolves to the area. Her existence brought hope to many that the gray wolf population will again establish itself in the rugged mountains of California and Oregon.
While her death is tragic, the amazing life of Wolf OR-54 will be a vital part of future conservation efforts in the region.
[Sources: USA Today; The Center for Biological Diversity]