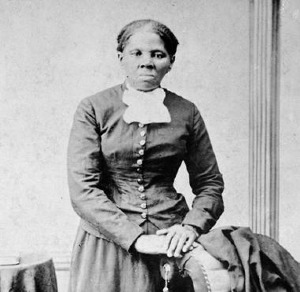 Harriet Tubman was born a slave in Maryland. She was born in 1820.
Harriet Tubman was beaten and whipped by her masters as a child. When Harriet was an adolescent she went to the store and saw a slave that was escaping from the fields. The slave owner demanded Harriet to help stop the slave from escaping. Harriet refused, and the overseer got mad and hit her in the head, because of the 2-pound weight that hit Harriet's head it caused her to have strange and vivid dreams, seizures, and severe headaches.
In 1849 Harriet Tubman escaped slavery, she went to Philadelphia and started a new life. She decided to help other slaves in Maryland escape. In just 11 years she helped about 300 slaves escape. In 1850, Harriet joined the Underground Railroad.
Harriet married John Tubman in 1844. John Tubman was a free black man. This marriage between Harriet and John didn't last. Harriet wanted to help free the slaves using the Underground Railroad. The two ended up getting a divorce.
Later, after the Civil War Harriet became very famous. She also married again. Her new husbands name was Nelson Davis they adopted a little girl named Gertie.
Today, Harriet Tubman is considered an African American hero. Not only did she help free the slaves, she also fought hard for freedom for all people. Many African Americans would like to see Harriet Tubman's face on the $20 bill. In 2016, the U.S Treasury Department announced the new American $20 bill will feature Harriet Tubman's face on it.
[Source: Biography.com]