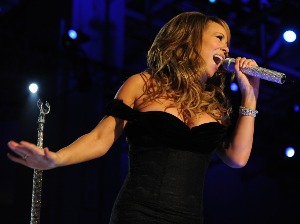 Mariah Carey has been fascinated with singing since she was only three years old. Now she is pursuing her dreams.
Mariah Carey was born on March 27, 1970 in Huntington Long Island, New York. Carey began taking voice lessons at the age of four. Her mother Patricia Carey was a voice coach and an opera singer, and her father Alfred Roy Carey was a Venezuelan aeronautical engineer. Carey's parents divorced when she was only three years old. At the age of two, she stunned her mother with her melodic singing. After Carey graduated in 1987 from Harborfields High School in Green Lawn, NYC, she moved to Manhattan where she worked as a waitress and a coat check girl. Carey also studied cosmetology in college and she worked on her songs.
When Carey was 18 years old, she and her friend, singer Brenda K Starr, went to a party hosted by CBS records. Starr convinced Carey to bring one of her demo tapes.
Carey brought the tape and planned to hand it to Columbia's Jerry Greenberg. But, when she tried to hand the tape to him, President Tommy Mottola, intercepted the tape out of her hand right before she could hand it to him. After Mottola listened to the tape on the way home he signed Carey immediately and set her to work on her first album Mariah Carey, which also included four number one songs such as: "Vision of Love," "Love Takes Times," "Someday" and "I Don't Want to Cry."
Her second album Emotions was released in 1992, the title track became her fifth number 1 single and also included her other songs, "Can't Let Go" and "Make It Happen".
In March 1992, Carey, appeared on MTV's Unplugged. This performance was released as a home video. Her November 1994 release, Merry Christmas, combined traditional Christian hymns with modern songs. A year later, she released Daydream; the first single ''Fantasy'' came in at number one. She also worked with R&B hip-hop artists, such as Wu-Tang Clan and Boyz II Men. Her 1997 album, Butterfly, included 11 compositions with R&B influence.
In July 2007, Carey was accepted into a New York-area hospital and put under psychiatric care after suffering from "physical and emotional collapse." Carey was released from the hospital after two weeks.
In 2012, Carey was set to be a judge on the TV show American Idol, along with Randy Jackson, Nikki Minaj, and Keith Urban. A year later, she appeared on an episode of the TV show, The Butler. She also voiced a character on the animated TV show American Dad. In January 2016, Carey introduced a TV show on E! Network called The Sweet Sweet Fantasy Tour and Mariah's World. She took another role in an animated film called The Lego Batman Movie.
In April 2018, a cover story for People showed Carey's secretive battle with bipolar ll disorder. She was first diagnosed with bipolar II disorder in 2001. After being hospitalized for her breakdown, Carey said that she refused to acknowledge it for years. Carey turned things around after finally reaching out for help, and she now undergoes therapy and takes medication daily. Carey also stated that she is in a good space now, and that she feels comfortable with discussing her bipolar II disorder struggles.
In June 1993, Carey married Tommy Mottola, but they divorced in 1998. Carey has also dated several other men such as Luis Miguel, whom she dated for three years. Carey was married to Nick Cannon for six years and they had twin girls, but they're now divorced.
Carey's music is known worldwide, and she is celebrated as one of the most successful female artists of all time.
[Source: biography.com]