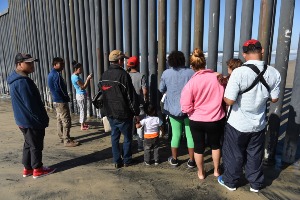 On November 25, 2018, a caravan of families who were marching to the United States to seek asylum became reckless. Their actions fueled the anti-immigrant views President Trump showed during the midterm elections.
Many people think migrants in the caravan are drug smugglers or people coming to the U.S. with bad intentions. In reality, many are running away from violence and poverty. In Honduras, many people are trying to escape forceful gang recruitment. The number of people waiting for freedom has largely increased over the years, leaving migrants frustrated and angry. Some are getting so stressed that they are tempted and willing to cross the border into the U.S. undocumented. These migrants are harmless; they just want more opportunities for a better life for themselves and their loved ones.
The Trump administration's stance on this issue began preventing caravan members from entering the U.S. undocumented. This will be the first crisis for Mexico's president, Andres Manuel Lopez Obrador. The Trump administration ordered Mexico to agree to host immigrants requesting asylum until these immigrants receive a hearing by a U.S. judge. These wait periods can last months or even years. The administration also sent American soldiers to the border; however, they were not involved in the march blockade. Some migrants have been released from Mexico and are working under the same rules Trump promised to change. He wants the migrants to wait in Mexico instead.
During the mid-morning march in Tijuana, Mexico, federal Mexican police officers waited for the migrants to arrive at the bridge, the same one that millions of people and cars cross each year at the border. When the 500 migrants were met by the police blockade, many tried to pass them and escape. The police brought riot shields and placed metal barriers on the roads that led to the border crossing. The United States Customs and Border Protection shut down the border on both sides, Mexico and San Diego. Since the police could not control the migrants, they used tear gas to restrain them. Some migrants thought they could talk with the U.S. officials to let them pass peacefully. Another handful of immigrants had thrown objects at the Customs and Border Protection officers, and those who attacked the police were deported. So far, 39 have been arrested.
Many migrants are waiting for an opportunity to have a better life for themselves and their families. If they go back to the cities they were running away from, they would be facing more danger.
[Source: New York Times]