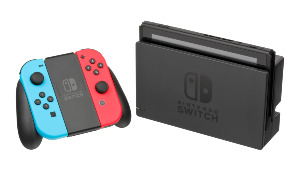 The Nintendo Switch is the most recent video game console developed by the Nintendo Company. Its portability and multiple platforms make it exciting to use.
The Nintendo Switch was released on March 3, 2017, and was unveiled in October of 2016. It is considered a hybrid console because it can be played anywhere. When a player has to leave the room, he or she can switch the console into "portable mode," and take the Nintendo Switch to the other room. In "tabletop mode," players can put the Nintendo Switch on a table or desk. And if a friend wants to play, just hand him or her a joy-con (a handheld controller that can be attached to or dettached from the console), and two can play together.
When it's time to leave the house, a player can take the Nintendo Switch on the road. Of course, you can also play the Switch on a plane—just put it on Airplane Mode.
In the U.S., the Nintendo Switch costs $300. By June 30, 2017, sales of the Switch had made Nintendo 3.92 million dollars. When it was first released, it did not include a Hulu app, but the app was released in early November. Now, anyone can watch TV on the Nintendo Switch.
I still like all my Nintendo devices, but I enjoy the Nintendo Switch the most because of its flexibility.
[Sources: Wikipedia ; Nintendo.com ]