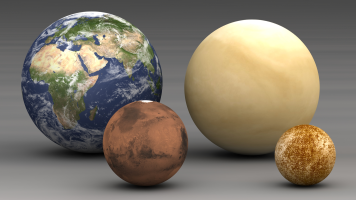 There are four small planets in our solar system: Mercury, Venus, Earth and Mars. While these planets are each littler than the rest, they also have distinct and unique traits.
Mercury is one of the four smallest planets in our solar system. It is the closest planet to the Sun, which is why it gets so hot. The side of Mercury that faces the Sun gets to be about 800 degrees Fahrenheit, which is twice as hot as a kitchen oven! In contrast, Mercury's dark side gets three times colder than Antarctica, or negative 297 degrees Fahrenheit. A rocky planet that does not have air or water, Mercury looks just like our moon. Thousands of bowl-shaped holes called craters, made by space rocks cover Mercury.
Venus, made of volcanic rock and covered in lava, is the second closest planet to the Sun. It is nearly as large as Earth, but it is still one of the smallest planets. The air on Venus is poisonous, and it is covered with white clouds made up of tiny drops of acid. The Sun's heat passes through the clouds and gets trapped, which is why Venus is the hottest planet in our Solar System.
Our planet Earth, the third planet from the Sun, is composed of 75 percent water. Earth is home to millions of different species of plants and animals, and features rocky surfaces, mountains, valleys, and broad plains. Some of Earth's land, like Antarctica, is always ice-covered. Unlike Venus' clouds, Earth's are made from water drops. Volcanoes on this planet spew lava to make more land, therefore causing the Earth to change constantly.
The last of the smallest planets, Mars, is the fourth closest planet to the Sun. Its surface is made up of rust-colored rock and dust, which gives it a reddish color. Mars has many notable features including a giant canyon that is longer than the United States and very large volcanoes, one of which is called Olympus Mons. This impressive volcano is three times higher than Mt. Everest, which is 5.49 miles high. On Mars, there is not enough air for breathing, so humans would not be able to live there.
Though Mercury, Venus, Earth, and Mars are the smallest of the known planets, each is clearly impressive in different ways.
[Source: Solar System]
You Can Learn More About Your Solar System and the Four Largest Planets Here!