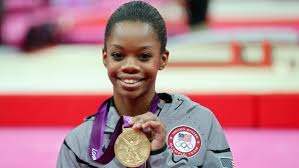 Olympic gymnast Gabrielle Douglas is best known as the first African American to win the individual all-around event in the 2012 Summer Olympics. She was born December 31, 1995. Douglas won a team gold medal at the 2012 and 2016 Summer Olympics.
Born in Virginia, Douglas started practicing gymnastics at the very young age of four. She quickly learned how to do a one-handed cartwheel at age six. By the time she was eight, she had won a state championship. But she didn't end there; in 2012, Douglas was a member of the US women's gymnastics team and was the first to win a gold medal in their division.
So far, in her Olympic career, she has competed numerous times. She won her first gold medal at the USA finals in 2011. The coordinator of the women's national team, Martha Karoyi, even nicknamed Douglas "flying squirrel". On July 11, 2016, the day after she made the Olympic team, Barbie debuted their new Gabby Douglas doll, honoring her achievements thus far.
Even though she achieved many great things, Douglas also struggled with people saying negative comments about her on social media. To address this, she said. "I still love the people who love me, still love the people who hate me, and I'm just going to stand on that."
[Source: Biography.com ]