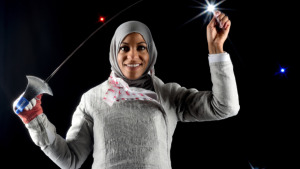 In 2016, fencing champion Ibtihaj Muhammad became the first Muslim woman to represent the United States at the Olympics while wearing a hijab. She also became the first female Muslim-American to win an Olympic medal. She did this in Rio during the 2016 summer games.
Muhammad was born December 4, 1985 in Maple wood, New Jersey. Muhammad first started fencing when she was just 13 years old. While driving home with her mom, she saw a high school fencing team training. That's where it all began.
Her mother thought fencing was a perfect sport for her to play because of the gear. For all the other sports she played before, her mother had to add longer sleeves or cover her legs in order to accommodate religious belives.
When Muhammad first started fencing she did not really care about it. But soon she changed her mind. She thought that fencing would be a great opportunity to earn a sports scholarship to a university.
The first weapon she used was the epée, then she switched to the saber, which she liked more. Over the years she got better and better at fencing.
During her first year of college, in 2004, she won All-America honors after her 48-8 record, which she kept for three consecutive years.
Then she was eligible to compete in the Olympics. She later joined a group to improve women and girls through sports. In 2012, she was named Muslim sports woman of the year. Ibtihaj Muhammad still fences today and is a big role model to others.
[Source: biography.com ]