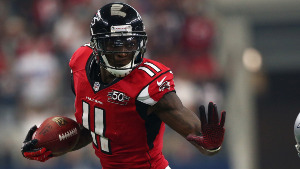 When you think of the greatest wide receivers in football history you may think of Calvin Johnson, Terell Owns, and Randy Moss. You probably don't think of Julio Jones. That might be because he isn't finished playing yet.
Julio Jones was born on February 8, 1989, He played football as a kid and in his teenage years. Jones played college football in Alabama. The Atlanta Falcons drafted Jones in 2011. He was the sixth overall pick in the NFL draft.
Once he got in the league, Jones made an immediate impact and was invited to the Pro Bowl on five occasions, one being in 2012, which was his second year as a pro.
Julio Jones has a career average of 95.3 receiving yards per game. As these numbers grow, Jones will surely be in the hall of fame one day.
[Sources: CNN ; Fox Sports ]