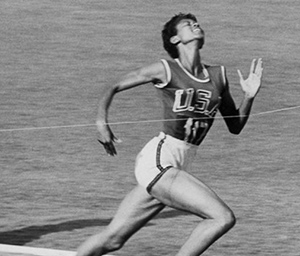 Wilma Rudolph was a famous runner. She was the first woman ever to win three gold medals in the same Olympics as a track and field athlete.
Wilma was born on June 23, 1946, weighing only 4.5 pounds. Her doctor was not sure she would survive. Early in her childhood, she also developed polio, a sickness that can make it very difficult to walk. She wore a brace on her leg for many years because of this illness. Wilma's family was poor and, because of her health, she started school late.
However, Wilma was determined not to let her polio and other struggles define her. In high school, she joined the track team and showed great promise. A few years later, at only age 16, Wilma went on to win a bronze medal at the 1956 Olympics. Four years later, at the 1960 Olympics, she earned three gold medals in the 100, 200, and 400 meter races.
Wilma succeeded in overcoming many obstacles in life. She remains an inspirational athlete today, even though she died decades ago in 1994.
[Source: TN History for Kids ]