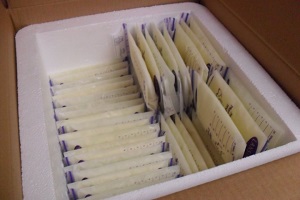 For women who cannot breastfeed, providing babies proper nutrition can be a dilemma. Some mothers find breast-feeding difficult and time-consuming, while others produce more milk than they can handle.
Breast milk offers protection from certain illnesses and is easy for babies to digest. For these reasons, some believe that breast milk is preferable to formula.
Some mothers who are unable to breastfeed obtain milk from milk banks. There are only about a dozen milk banks across the country, a few of which are part of the Human Milk Banking Association of North America (HMBANA). Being part of this association means that mothers with extra milk give it to the milk bank and then the bank gives it to families with premature or sick infants. Donors go through thorough questionnaires and blood tests before they are qualified to donate.
When the milk bank finally gets the milk, it is pasteurized and processed to ensure the final product is free of bacteria and safe to consume. This precautions and expensive process leads to an expensive product: the resulting milk costs $4.50 for a single ounce. The milk is not commonly covered by insurance; so, in many cases this is a barrier to mothers with limited incomes.
However, many milk banks have less and less milk in their inventories. This is partly due to the fact that breast milk has become standard of care for premature infants in many hospitals.
For families who need a cheaper solution than milk banks, milk-sharing groups are another option. They are becoming more common. Several online milk-sharing groups, include Eats on Feets and MilkShare, where mothers' milk is offered for free. Some people have tried selling their milk on eBay or Craigslist, but many of those entries were taken down because they were not deemed safe. In milk-sharing groups, mothers who have excessive milk can go to the appropriate website to see if there is some other mother, preferably in her community, who needs some. Such a website may offer options to those with specific needs. For example, if there is a mother who needs milk from someone who has a gluten or dairy-free diet, a donor with these dietary restrictions can ship the milk directly to the mother in need.
It's much simpler to become a donor for a milk-sharing group like Eats on Feets than it is to donate to a milk bank, but the well-laden mothers still have to fill out a questionnaire about their health and medical profiles. The group enforces this rule so that receiving families can learn about those from whom they are receiving milk.
"We support an ideal of informed choice," said Shell Walker, the founder of Eats on Feets.
Milk-sharing groups are community-oriented, which lets the mothers get to know each other. Milk from these groups does not go through the rigorous processing of a milk bank. A big reassurance for mothers on the receiving end in milk-sharing groups is that the same milk is being fed to the donor mother's baby. But, Kathleen Marinelli, a neonatologist and medical director for the Mothers' Milk Bank of New England, warned that it is important to be wary when using a donor's milk. A donating mother might have a medical condition of which she may not be aware, that allows her to feed her own baby without a problem, but could cause serious trouble for another one.
"The biggest risk is you have no idea what you're getting," said Marinelli.
The truth is that a woman's own breast milk is specially designed to give her baby the best vitamins and nutrients for them.
"Someone else's milk is always second best to nursing your own baby," said Naomi Bar-Yam, executive director of the Mothers' Milk Bank of New England. But some women who experience difficulty nursing have no choice.
Many mothers have jobs that do not allow them the time or energy to feed their babies. Other mothers may have an illness that makes them unable to nurse. These milk-sharing organizations and milk banks help many mothers in many different ways. Women participating in milk-sharing groups make new friends, and mothers involved in milk banks can rest assured that the milk they are feeding their infants is safe. Even though the milk banks and the milk-sharing groups present different problems – one with cost, the other with safety – both of them are giving well-meaning mothers a chance to give their children what they need.
[Source: Time.com]