Kick the Junk Food Addiction

Alarming Data on Snacks, Sugar, and Childhood Obesity

by Alex Lee, age 13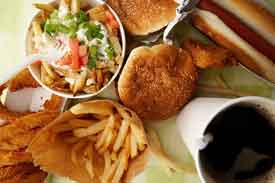 After coming from school I always need a snack to reboost my energy, so I usually have some fruit. But most kids aren't like me.

Today, children eat an average of three sugary snacks a day. These snacks usually consist of cookies, cakes, candies, salty foods, and other high-calorie treats. All these unhealthy snacks are contributing to increasing rates of childhood obesity.

Barry Popkin, a nutrition professor at the University of North Carolina, has extensively researched modern children's snacking habits. He investigated government data from the last 30 years. He looked at the eating habits of around 31,000 children between the ages of two and 18. Popkin concluded that children today are consuming about 170 more calories a day from snacks than they did in 1977.

Harry Balzer, the vice president of the NPD Group, a market research company, has slightly different data. His data shows that parents have been doing a somewhat better job providing children with healthier snacks and reducing their sugar intake. This is particularly true during the last ten years.

Either way, both these studies show that children consume way too many high-calorie foods and way too much sugar. And rates of childhood obesity in this country are alarming. As most of us already know, we need to stop stocking up on junk foods. These studies provide more evidence that eating more fruits and vegetables is definitely the way to go.

[Source: USA Today]