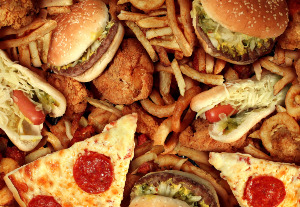 Research shows that decreasing consumption of trans fat helps hearts. Trans fat is a fat that raises low-density lipoprotein (LDL), which is 'bad cholesterol' and lowers high-density lipoprotein (HDL), which is 'good cholesterol'. This is the reason doctors consider trans fat the worst fat one can eat.
Trans fat is in foods like cakes, potato chips, french fries, cinnamon rolls, and non-dairy coffee creamers. In the United States, nutrition facts labels on food cans read zero grams of trans fat as long as the individual servings contain less than 0.5 grams of trans fat. Even if a nutrition facts label reads zero grams of trans fat, it is always a good idea to check the food's ingredient list for hydrogenated and partially-hydrogenated vegetable oil.
Many doctors worry about trans fat because it increases the risk for heart attacks, strokes, and Type 2 Diabetes. Trans fat can also have an unhealthy effect on cholesterol levels. LDL cholesterol can build up in the walls of arteries, which makes them hard and narrow and can potentially decrease blood flow to the heart. This may cause a heart attack or a stroke. Too much trans fat also makes it hard for the HDL cholesterol to pick up excess cholesterol and transfer it back to the liver, as is one of its important functions.
Between 2007 and 2011, nine counties in the state of New York banned trans fat in restaurants, bakeries, soup kitchens, park concession stands, and many other places where food is served. As an experiment, researchers then compared the health of people in these counties that banned trans fat with eight counties that didn't. Cardiovascular diseases, like heart attacks, have been decreasing nationwide during recent years. But, there was an additional 6.2 percent drop in the counties where trans fat was restricted.
Because of this study and similar ones, the Food and Drug Administration (FDA) plans to restrict the use of trans fat in foods nationwide. Dr. Eric J. Brandt, a cardiovascular medicine fellow at Yale, said, "the most important message from the data is that it confirms what we predicted – benefit in the reduction of heart attacks and strokes."
[Sources: The New York Times; Mayo Clinic]