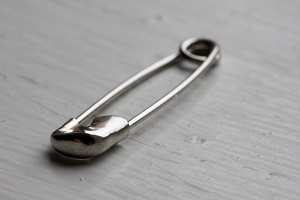 These days, you may see people wearing safety pins and wonder, "what's up with that?" Before answering this question, it's necessary to consider the history of the safety pin.
A long time ago, an ancestor of the safety pin held togas together. Because these pins were visible, newer and more modern pin designs became increasingly decorated. For example, some were made of precious metals, like gold. Soon, these pins became a status symbol that only the wealthy could afford. Made of two separate pins fit together, this ancestor was called the fibula.
The fibula eventually evolved into the brooch. Like its predecessor, the brooch was a status symbol: it was—and sometimes still is—used to fasten men's cloaks and decorate women's dresses and hair.
The fibula and the brooch were uncomfortable two-pin designs. Wearers risked getting pricked by the pins' needles. In 1849, however, Walter Hunt, an American mechanic, solved this problem. He designed pins much like the ones we use today. His ingenious design uses only one wire, which coils and fits into a clasp. Wearers of Hunt's pin no longer needed to worry about getting pricked.
But, this did not mean that safety pin wearers no longer had to worry about a pin's cost. Making the pins more effective did not drive prices down; though the new design was better, it was still handmade. And because of their relatively complex design, safety pins of the early 1800s took a long time to make. Additionally, they were only sold on January 1 and 2 each year. On those days, wealthy women were traditionally given "pin money" from their husbands to purchase the pins for their clothes, according to Brewer's Dictionary of Phrase and Fable, which was published in 1870.
In the mid to late 19th century, machines made mass-produced pins possible, which ultimately lowered prices. But "pin money" remains a term to this day to refer to money used to purchase expensive, if unnecessary, items.
In the 1970s, safety pins re-surged. During this punk rock era, it was cool to wear deconstructed t-shirts held together by safety pins. These pins became a staple in punk rock culture, and were even used as jewelry for piercings.
Overall, the safety pin is a traditional symbol of protection. In Ukraine, safety pins are fastened to children's clothes to protect them from evil spirits. In Mexico, safety pins are attached to clothing near pregnant women's stomachs to protect their unborn children from potential complications.
Today, safety pins are used as a symbol of protection all over the world. Women in India have adopted them as a symbol of protection against harassment. These pins also represent support for immigrants in light of the 'Brexit,' Britain's recent choice to leave the European Union. In the U.S., some wear safety pins to show support for those who have been hurt by the outcome of the 2016 presidential election, specifically marginalized groups like immigrants and the LGBTQA+ community.
The safety pin has certainly come a long way. It has evolved not only physically but also in purpose. While the safety pin was once used to separate people by status, it is now worn to bring people together, as a silent show of support.
[Source: The Atlantic]