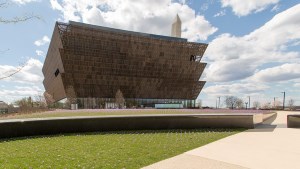 For years, African American history and culture has been downplayed in literature, films, and the media. However, with the opening of the Smithsonian's National Museum of African American History and Culture, the African-American narrative will finally become accessible to everyone, creating a richer story of America.
The first of its kind, the museum's construction was set in motion 13 years ago when former President George W. Bush signed a bill creating it. But it wasn't until February 2012 that the museum began its construction. Located on the National Mall in Washington D.C., the museum's exterior is made up of 3,600 bronze-colored panels, several wooden columns, imagery, and topped with an African headdress called a corona. The building's detailed architecture is meant to exude faith, hope and resiliency. But the most impressive aspects lie within the building.
Containing tens of thousands of artifacts—many that were donated by Americans across the country—the museum holds several exhibits focusing on fundamental periods in African American history like slavery, segregation, the civil rights movement and more. The museum is also home to iconic artifacts ranging from Harriet Tubman's hymn book; Rosa Parks' dress when she was arrested; a World War II Tuskegee airplane used by African-American pilots; a segregated Pullman train car; to more recent items like Michael Jackson's fedora; Jackie Robinson's bat; Muhammad Ali's headgear and more.
On September 24th, thousands attended the museum opening, where an exclusive exhibit playing homage to Barack Obama's presidential run was unveiled. The president, along with former presidents George W. Bush and Bill Clinton, civil rights icon John Lewis, and Chief Justice John Roberts all arrived to celebrate the milestone in history that is the Smithsonian museum. Lonnie Bunch, its founding director, said she hopes that the museum provides context to the ancient history of African Americans and becomes a successful source of education.
President Barack Obama said he hopes the museum will serve as a reminder that routine discrimination isn't a thing of the past—that the pain and anger of protestors runs deeper than the shootings on the streets of Charleston and that "African American history is not somehow separate from our larger American story."
[Source: CNN]