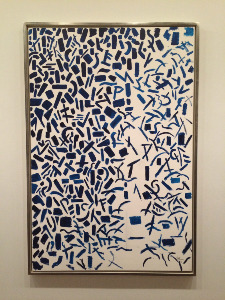 As the first African American female to exhibit her abstract art solo at the Whitney Museum in New York, Alma Thomas lived a life filled with meaningful and lasting achievements.
Thomas was born and raised in Columbus, Georgia and later moved to Washington, D.C. with her family. As a little girl, Thomas was not allowed to enter museums, likely because of Jim Crow laws that segregated blacks and whites. Today, however, her work is displayed in museums, galleries, exhibitions, and even the Obama's hung one of her paintings in the White House dining room.
In 1924, Thomas was the first art major of Howard University in Washington D.C. Soon after graduating, she became an art teacher and taught for 35 years at a segregated junior high school in Washington, D.C. In the 1950s, she took classes at American University in abstract art and in 1960 retired from teaching to pursue her career as abstractionist. Thomas left a majority of her work to the Smithsonian American Art Museum and other locations around the United States.
Many people describe her style as retrospective and expressionist. Abstract art explores the relationships of forms and colors; it is a visual concept. Michael Rosenfeld, Thomas' art dealer for 25 years, thinks it was bold for black artists like Thomas to produce art that portrayed the life of African Americans during the Civil Rights era.
"Her decision to be an abstractionist was in itself a major social-political statement—that a woman of color can be part of the larger picture of American painting," said Rosenfeld.
Alma Thomas passed away in 1978, but her legacy of abstract art continues to expand artistic horizons. She once said, "through color, I have sought to concentrate on beauty and happiness, rather than on man's inhumanity to man." Her art was not just her pastime, it was her representation of segregation in America.
[Source: Artsy.net]