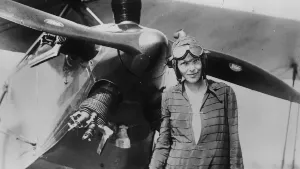 Did you know that Amelia Earhart was the first woman to fly solo across the Atlantic and the Pacific ocean?
Amelia was born on July 24 in Hutchinson, Kansas 1897. When Amelia Earhart was a child, her family dealt with many financial problems. Her father was an alcoholic and could not get a job. Amelia and her sister Muriel moved to their grandparents at a very young age. When she went to school, she was a happy and bright kid. She once said that adventures is worth while.
After graduating from college, Amelia Earhart became a nursing assistant in Toronto during World War I. She cared fir wounded and sick individuals. After the war, she trained to be a doctor in California, but later dropped out because piloting caught her eye.
The first time Amelia Earhart got on a plane was in 1920. In 1921 she took flying lessons in California and demanded a female instructor, Nate Hook. That same year, Earhart saved up her money to buy a plane. She named her plane Canary and painted it bright yellow. A rich man was looking for a woman who could fly a transatlantic flight and he would pay for it. George p putman asked Amelia to join with Wilmer Stultz and Luis Gordon. On June 17 1928 the team left from Newfoundland and after 21 hours they landed in Wales. The drew a lot of attention and the team was greeted acknowledged when they returned, this made Amelia well-knowed. Amelia ended up making it across the Atlantic by her self in 1935 , but later the weather got bad and icy so she had to stop in Ireland. But she had a major challenge left was to fly around the world. After a false start on June 1st 1937 she went to Miami with the co pilot and a navigator, Fred Noonman.
Amelia became a National heroine attempting to fly around the world in 1937.
[Source: Woman who changed the world]