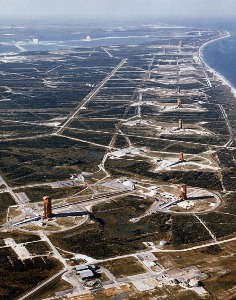 The Cape Canaveral Air Force Station is widely known for the Apollo 11 lunar landing on July 16, 1969.
The launch site was constructed in 1940 and has been in use since 1948. "The Cape," is one of the most famous launching sites, and has had more than 500 launches since 1958.
Cape Canaveral is a 15-mile piece of land that sticks out from the east coast of Florida, which goes into the Atlantic Ocean. Its barren land is filled with sand, palmetto scrubs, and palm trees. This land also has alligators, birds, and hordes of mosquitos, causing it to be a difficult place to work and live. Even though Cape Canaveral is famous for its successful launches, occasionally, there are thunderstorms which can be disastrous for experiments. For example, Apollo 12 was struck by lightning in November 1969 but still made it to the moon.
Cape Canaveral also has the Kennedy Space Center, where visitors can learn about spaceflight, train like an astronaut, and watch launchings. The first stop is the Apollo Saturn Center, where a Saturn 5 spaceship is laid out to view. The second stop is an observation building a mile away from pad 39A, which is the same pad that was used for the Apollo 11 mission. Finally, there is Cocoa Beach, where beachgoers can get an amazing view of the blastoff.
Cape Canaveral is an important part of American history that has made an impact on this country. The site offers opportunities for people to explore space science and it will forever change our views of outer space.
[Source: Secrets of the Universe]