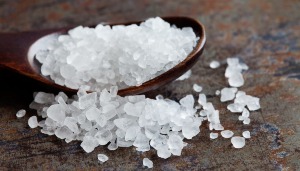 The Avery Island salt dome in Louisiana is best known now as Tabasco Hot Sauce's main manufacturing site. Avery Island actually isn't an island at all, it's more of a marshy grassland because it's close to the south coast. There are large quantities of untouched salt on Avery Island. But it's historical value stems from the role and significance of the salt domes during the Civil War. Salt was an important element to conserve food without a refrigerator.
Salt facilities in the South became a major Union military target because the facilities were necessary for the well being of the Confederate soldiers.
The Confederate soldiers' chief nourishment was pork and beef, and their greatest difficulty was preserving it. The Union blocked a large number of staples, especially salt, during the War in 1861. While this tactic worked, small quantities of salt still reached some Southerners.
Later salt became too expensive for people to buy. In New Orleans, a sack of salt of 200 pounds costs 50 cents at the beginning of the war in 1861. The price was 25 dollars only a year later, in. Salt becAme such a rare commodity that people started to re-purpose it. They might brush it out of their meat or even boil it off of the wooden boards of the smoke house.
Soon, the Southern states offered rewards to people who found and harvested SALT. During the war, Avery Island remained one of multiple booming salt mines and manufacturing sites in the South. Salt was so vital that multiple laborers who were employed to mine salt in seawater reservoirs were given exemptions from naval service. Most laborers, though, were enslaved and did not have that option. Males and females alike were enslaved and coerced to work in the salt works.
More than once, the bravery of the slaves who provided important information about the location and defense of the salt sites led to the collapse of some of the southern salt works. For example, a group of enslaved men fled to the Union ship, the Kingfisher, in St. Joseph's Bay, with newly excavated salt. The ship "sent a truce flag, politely informed them they must stop or we must destroy them," the officer told Harper's Magazine in 1862. When the salt works failed to recognize his flag, the ship shot two shells into the building. Later Union soldiers disembarked to dismantle the building
The whole thing was a big blow to the South. Historian Adam Wasserman noted that Florida and Georgia depended on the destroyed site for the Confederacy's total winter salt supply. Gunpowder, fire and hammers were used for the rest of the war to destroy salt pots and furnaces. There are abundant tales of black people who were forced to produce salt who also helped to destroy them. At times, this meant that Union forces were being led to salt kettles in swamps. The result was millions of dollars of damages, rising salt prices, and what southern leaders have described as a' salt famine.' Both sides saw clearly the effectiveness of these salt raids.
Their defenders successfully fended off attacks for Avery Island until General Nathaniel P. Banks and his men ransacked their salt works in 1863. Their former manager Edmund McIlhenny, a former banker, was broken. He had nothing to do but putter around his garden, where he grew several interesting hot peppers after years of fleeing Union forces back to Avery Island. It took McIlhenny a few years only to produce tart, spicy Tabasco Sauce made from Avery Island, by using a potato masher and the old Confederate supply depot turned factory.
[Source: atlasobscura.com]