Remembering a Princess: Diana of Wales
by Aviana House, age 13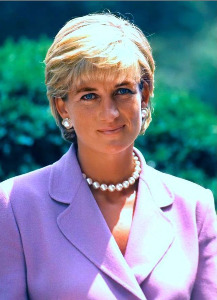 Diana, Princess of Wales, was one of the most famous people in the world. Known for her empathetic image, she gained the attention and respect of people worldwide during her life.
Princess Diana was born as Lady Diana Frances Spencer on July 1st, 1961 in Sandringham, England. Diana constantly moved around throughout her schooling years. After her grandfather, Earl Spencer, died, she moved to Althorp, Northamptonshire with her family in 1975. She was sent to board West Heath School in Kent around that time. Not long after, she moved to Switzerland to a finishing school, and shortly returned to England to work as a nanny and school teacher.
Diana's family was close to the British royal family for years. In fact, Charles, the prince and Diana's soon to be husband, briefly dated Diana's sister, Lady Sarah. Diana married Charles instead of Sarah because of family pressure including expectation of Diana to become the future queen. They married on July 29th, 1981 when Diana was 19 and Charles was 32 years old. Since royal weddings are highly newsworthy, over one billion people watched and listened to their wedding.
Not long after, Diana gave birth to Prince William and Prince Harry. But, as Diana and Charles moved into separate careers, their marriage went downhill. Rumors spread that they were seeing different people. The couple formally divorced on August 28, 1996.
Diana stepped out of the public eye to shield her kids from unwanted attention and harassment. She resigned from many charities. However, she remained affiliated with the National AIDS Trust, the Hospital for Sick Children and the Royal Marsden Hospital. She also helped create visibility for the effect of landmines on people in Angola and Bosnia.
Princess Diana died August 31, 1997, a year after she and Charles divorced. Her driver was speeding, apparently to get her away from paparazzi. This reckless driving resulted in the accident that killed her. Her funeral was held at Westminster Abbey. Over three million people came to pay their respects. She was buried on an island in a lake in Althorp, her childhood home.
After Diana's death, many in the media changed their way of viewing public figures, giving them more space and respecting their privacy. Her popularity also opened the eyes of the royal family and caused them to reevaluate some long-standing traditions. A lot of money was given to her memorial fund which continues to support the charities she was involved in. Diana, Princess of Wales, was one of the most admired women in the world, and her legacy lives on to this day.
[Source: Women Who Changed the World]