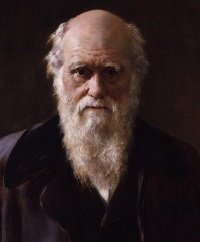 Evolution is the way an organism changes over time. This change ultimately produces a species that is distinct from an organism's early ancestors
Many experts think that the species on Earth today have arose and formed from simple organisms that first appeared three billion years ago.
The idea of evolution has been in the air since the time of the ancient Greeks. However, a naturalist named Charles Darwin was the first man to publicly describe how evolution works: Darwin saw that plants and animals create many more species of their own but only the ones that are capable of surviving in a particular environment live on. He called this process "the struggle for existence".
As every generation passes, a species may struggle to exist. Individuals who were not as well adapted to their current environment would die while the well-adapted individuals survive to pass on their traits to their offspring.
Evolution occurs slowly. Slow enough that it is not easily visible within one generation. However, if we were to look at a species over the course of a million years or so, we would see a big difference.
The environment is not the same everywhere so types and numbers of a species differ from place to place. A species with a larger population may change into many different types to better fit the environment. This process of selecting the best species is completely natural which led Darwin to give it the name 'natural selection'.
The theory of evolution has been very controversial throughout the years. Some of the best evidence that supports this theory is found through the fossils of plants and animals. As scientists have researched the fossils they have seen that both animal and plant types have changed throughout time. This provides essential support for the theory of evolution.
Looking at the structure of an animal also shows the evolutionary process. The bone structure of a birds wings and a whale's flipper are similar. This provides a hint that the species may have evolved from the same ancestor. That ancestor spread out over a large region. Then, through natural selection, the arms changed to be able to work in different environments.
Evolution has shaped and changed all living things on Earth and will continue to do so for as long as it may be needed.
[Source: The Kingfisher Children's Encyclopedia]