Fannie Lou Hamer: "We Didn't Come All this Way for No Two Votes"
by Josepha Da Costa, age 15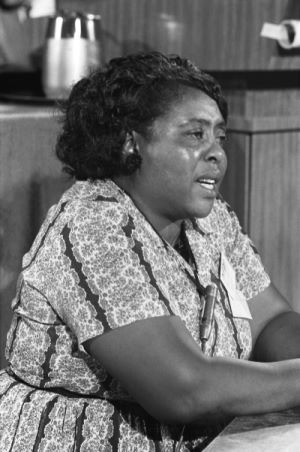 "If I fall, I'll fall five feet four inches forward in the fight for freedom. I'm not backing off," said a small woman who stands tall in the history of Black women. Fannie Lou Hamer helped Americans take giant steps toward equality in our country.
Raised in Montgomery County, Mississippi, Fannie Lou Hamer grew to be an impassioned and inspiring civil rights activist. She fought tirelessly for better treatment of African Americans and was a pioneer for voting rights.
The path to her mission
Born to sharecroppers Lou Ella and James Townsend, Hamer was the 20th and last child in her family. Her childhood consisted of picking cotton alongside her family, leaving school at age 12 to continue working. In 1944 she married Perry Hamer and together they worked on a Mississippi plantation until 1962. On that plantation, she kept records as a timekeeper because she was the only worker who could read and write.
In 1961, Hamer went to a hospital to remove a uterine tumor. Without her consent, a white doctor performed a hysterectomy, leaving her infertile. This horrible practice, known as a Mississippi appendectomy, was used on Black women as a way to decrease the black population. She and her husband later adopted two children.
This incident ignited a flame within her, which never diminished during her fight for human rights.
Through every obstacle, her determination only grew stronger.
On August 31, 1962 Hamer and 17 other volunteers went to a courthouse in Indianola, Mississippi to register to vote. There, they were refused the right to vote due to not passing a blatantly biased literacy test. Later that day, on their way home, they were stopped by police and fined $100 for the charge of "their bus being too yellow." After being fired and kicked off the plantation for attempting to vote, she moved in with friends. One night, 16 shots were fired into the home where she was staying.
Nevertheless, she persisted.
In June of 1963, Hamer finally became a registered voter. Many people were unhappy about this including the president at the time, Lyndon Johnson. Shortly after registering, she and a few other black women were arrested for sitting in a "whites only" restaurant in South Carolina. In jail, they were severely beaten and Hamer sustained injuries from which she would suffer the rest of her life.
Again, Hamer didn't let the bruises and hatred stop her.
She co-founded the Mississippi Freedom Democratic Party (MFDP) in 1964, which her national attention. That year, Hamer and other members of MFDP visited the National Democratic Convention to speak about the challenges black people faced around the country. They requested that the integrated MFDP delegation be recognized as the official representatives of the State of Mississippi. As she spoke to the convention's credentials committee, President Johnson tried to prevent her speech from getting national television time by holding his own press conference at the same time Hamer was speaking.
When the national Democratic Party leaders decided to seat the regular (all white) delegation from Mississippi instead of the MFDP delegation who would get only two advisory votes, Hamer famously said "we didn't come all this way for no two votes."
However, Hamer persevered. Her powerful speech on racial injustice was later televised and aired around the country.
Her legacy lives on
Continuing her efforts to end racial inequality, she started the Freedom Farm Cooperative which encouraged Black people to own and to farm their own land. With the help of investors, including Harry Belefonte, she was able to acquire 640 acres of land on which Black families could farm. On this land 200 units of low-income housing, a coop store, a boutique, and sewing enterprise were built.
Hamer and other activists also organized the now-famous "Freedom Summer" in Mississippi. This project opened "freedom schools" and helped Black people register to vote. The project brought college students of all different races and from all over the country to the South to combat segregation.
Fannie Lou Hamer died at age 59 of breast cancer, but her legacy lives on through all the projects and organizations she started during her lifetime. Persistence was in her DNA and she never wavered in her pursuit of equal rights for all citizens.
[Sources: National Women's History Museum; pbs.org; The Washington Post]