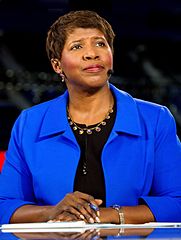 Beloved political reporter and groundbreaking journalist Gwen Ifill passed away early last week at the age of 61 following a private battle with uterine cancer. Ms. Ifill was well-known and respected for her coverage of the White House and national campaigns and for her work with The Washington Post, The New York Times, NBC, and PBS.
Daughter of Caribbean immigrants and a woman of color in a field dominated by white males, Ms. Ifill confronted great adversity throughout her career. Despite facing many challenges, however, she persisted to achieve her lifelong dream of becoming a journalist.
Most recently, Ms. Ifill co-anchored "PBS NewsHour" alongside Judy Woodruff. Ms. Ifill and Ms. Woodruff made history as the first all-female anchor team for a major news network on nightly news.
During a recent phone interview, Ms. Woodruff described Ms. Ifill as "a fiend about facts" and one who "loved storytelling and loved helping people understand what was going on in the world around them."
As a child, Ms. Ifill and her family moved frequently. Her father, a preacher, was continuously reassigned. In early interviews, Ms. Ifill recalled living in church parsonages and federally-subsidized housing throughout her young life.
In spite of such disadvantageous circumstances, Ms. Ifill ultimately graduated with a Bachelor of Arts from Simmons College in Boston in 1977. Here, she majored in communications. Shortly thereafter, she accepted an internship at The Boston Herald-American, where she wrote about food. Eventually, amidst the move to desegregate schools in Boston, she began to report on education.
In 1981, Ms. Ifill joined The Baltimore Evening Sun, where she reported on local politicians. Three years later, she was hired by The Washington Post. In this capacity, she covered her first presidential campaign.
After moderating vice-presidential debates in 2004 and 2008, Ms. Ifill was honored with the George Foster Peabody award. And in 2012, she was inducted into the National Association of Black Journalists' Hall of Fame. Three years later in 2015, she received the Fourth Estate Award from the National Press Club. Ms. Ifill was also set to receive the John Chancellor Award for Excellence in Journalism from the Columbia University Graduate School of Journalism just last week.
Ms. Ifill's legacy will not be forgotten soon. We at Simpson Street Free Press fondly recall sharing a table with her at a Madison Civics Club luncheon just over five years ago. Ms. Ifill is truly a role model and an inspiration to all young girls—and especially those of color. We thank her for her years of service and hope that our work honors her memory.
[Source: The New York Times]