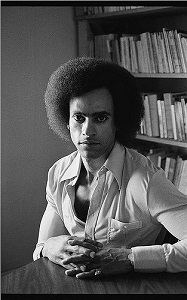 African American leader Huey P. Newton lived a complicated life full of ups and downs. He is most famous for co-founding the Black Panther Party. The organization's main goal was to defend Black Americans and promote their advancement through housing, education, and job opportunities.
Newton was born to Amelia Johnson Newton and Walter Newton in Monroe, Louisiana, on February 17, 1942. Throughout his youth, Newton watched his father balance many jobs simultaneously to support his family of eight. The Newton family eventually moved to Oakland, California in pursuit of better job opportunities. Although his family worked hard to create a safe home environment for him, Newton's experiences within their ghetto neighborhood would nevertheless propel him to become a nationally-known activist.
During his studies at Oakland's Merritt College, Newton met another African American student named Bobby Seale. Unhappy with the injustice Blacks faced at the hands of local police, they formed the Black Panther Party for Self-Defense in October 1966.
The Black Panther movement quickly accelerated. Soon, Panthers patrolled the streets carrying guns and wearing uniforms–black berets and leather jackets–while they monitored police activity for threatening actions. Both men and women participated. Under Governor Ronald Reagan, who wanted to stop these patrols, California legislature banned public carrying of loaded firearms.
As the Black Panther Party continued to attract new members, urban black families faced interesting unequal treatment in their communities at the hands of local law enforcement. During a late night traffic stop in October of 1967, Newton was wounded and Oakland police officer John Frey was shot and killed. Accused of killing Frey, Newton was arrested. When he was later convicted and imprisoned for manslaughter, fellow Black Panther and writer Eldridge Cleaver launched the "Free Huey" movement that made Newton internationally famous.
Newton was released in 1970. By this time, the Black Panther Party had successfully reached its pinnacle, with offices in more than 30 cities including New York, Philadelphia, Chicago, Los Angeles and even Algeria. Around America, the Black Panther Party provided free meals for students and conducted many other types of community service in addition to their militant political activities.
Like many other members of the Black Panther Party, Newton was constantly under surveillance, dealt with frequent police harassment, and experienced many unlawful invasions of his privacy. Organized units of police working with the FBI were responsible for covert operations that worked to undermine the Party. In 1969, Panther leaders in Chicago and Los Angeles were shot to death. Between the years of 1968 and 1973, Black Panther members all over the U.S. were arrested and imprisoned. And an astounding 34 panthers were killed in their time.
Over time, the Panthers' ideology shifted. The Party moved away from its Black nationalist agenda toward anti-imperialism. They strongly opposed expanding the U.S. over other nations' borders. The Party finally settled into what Newton called "intercommunalism," which promoted coalition-building with members of the non-Black community including Asian, Latino, and White individuals. These connections spurred disagreements within the organization, which ultimately led to the expulsion of some members. Eventually, this turbulent climate caused the "Newton-Cleaver split," as the press called it, in 1971. Newton's side of the party started to slow down and was left behind by the Cleaver group, which eventually became the Black Liberation Army.
After the split, Newton was never quite the same as a leader. He became heavily addicted to drugs and led the few members who followed him into criminal activity. After multiple accusations of assault, Newton fled to Cuba in 1974. On his way to Cuba, he married his secretary, Gwen Fontaine.
When Newton returned to the U.S. in 1976, he signed up for the History of Consciousness program at the University of California, where he earned his Ph.D in four years. 1982 brought the divorce of Newton and Fontaine and the end of Black Panther Party. That year saw the Panther's last operation, the Youth Institute, shut down.
After all of his pioneering work for the Black Panther Party, Newton succumbed to the lures and problems of drug use. He was shot and killed in a drug deal on the morning of August 22 in 1989.
In spite of his tragic downfall and death, Huey P. Newton remained a very important African-American icon. He stood with the Black Panthers from the beginning to the very end. Despite his inner conflicts, his vision and work inspired and changed the minds of many. Newton ignited a spirit of resistance that would inspire the activists of future generations.
[Source: American National Biography Online]