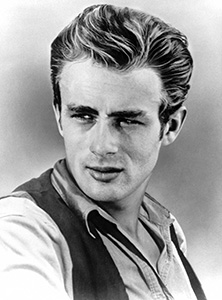 When James Dean entered the spotlight in the 1950's, he was not a run-of the-mill actor. His cool personality complemented his rebel ways that made him a very attractive and influential star. James Dean was an icon of his time.
Dean was born on February 8, 1931 to Winton and Mildred Dean. The family lived on a farm in Indiana. When Dean was six, his father moved the family to Santa Monica, California so he could work as a dental technician. Dean's mother died when he was 9, a fact to which many attributed his antisocial tendencies.
Shortly thereafter, Dean was sent to live with his aunt and uncle in Indiana because his father couldn't take care of him. He graduated from Fairmount High School and then moved back to California to attend Santa Monica College. He transferred to UCLA soon after because he wanted to study drama.
Dean beat 350 actors to land the role of Malcolm in "Macbeth" while at UCLA. In January 1951, he dropped out of school to become an actor in commercials and a stunt tester on TV shows. He worked as a parking lot attendant at CBS Studios to pay his bills because he wasn't able to get many acting jobs.
He finally landed a big role in the movie "Sailor Beware," where he played as a boxing trainer. Frustrated by his lack of success in movies, Dean moved to New York to become a live stage actor. He appeared in a few TV shows as well which helped him land a role in "East of Eden." Quickly after that he got a role in "Rebel Without A Cause" as Jim Stark, a rebellious teenager who is emotionally confused. Because of this role, his popularity caught fire and he became a cult figure among teenagers.
Besides being an actor, Dean was also a car racer. When filming his role as a racist Southerner in the movie "Giant," he was contractually banned from racing. Once the filming was done, he was free to race once again. 
On September 30, 1955, Dean and his mechanic had prepared his Porsche Spyder for a race in Salinas, California. Dean was supposed to trailer his Porsche to the meeting point, but instead, he decided to drive it to familiarize himself with the car. It would be his last drive.
Dean's body was recovered from the scene of a crash on Highway 466 and rushed into Paso Robles War Memorial Hospital, where he was pronounced dead. Dean's Porsche had crashed almost head on with a 1950 Ford Tudor. The scene of the crash was horrific. He was buried in Park Cemetery in Indiana.
 Although James Byron Dean's life was short and his acting career even shorter, he lives on as a legend and an icon who will be remembered in American film history for years to come.
[Source: www.biography.com; www.biographychannel.co.uk]