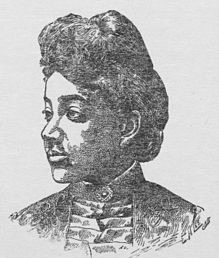 Katherine Davis Chapman Tillman was born in Mound City, Illinois on February 19, 1870. Although Tillman's mother was teacher and taught her to read, the family didn't have money for Katharine to attend a formal school until 1882, when she was 12-years old. That's when her family decided to move to Yankton, South Dakota. It was during this time that her writing skills started to emerge. And from there, things just took off as Davis Chapman quickly decided she had found her calling--writing.
Tillman fell in love with poetry and at the age of 18 and she published her first poem in the Christian Recorder newspaper. As her love of writing grew, she published essays and poems in Black newspapers and other press outlets. She even published written work in the Indianapolis Freeman, one of the leading Black publications in America at that time.
And that's where Lillian Parker Thomas Fox, another accomplished Black writer, most likely saw the work of Tillman. The poems and essays of Katharine Davis Chapman Tillman were often confrontational. She did not mince words and she was not afraid to challenge the bad things she saw in society at the time.
During Tillman's college years she attended State University and Wilberforce University. She didn't only write poems, but she also wrote fiction books, essays, plays, and even biographies. Throughout her considerable body of written work, Tillman managed to speak about the racial problems affecting African Americans and show her Black pride. One of Tillman's idols was Ida B. Wells, another famous journalist. Ida B. Wells inspired much of Tillman's writing.
In 1895, Tillman published one of her most powerful and well-received essays. It was titled "Afro-American Women and Their Work." In that essay, she explained the many accomplishments of African American women in the post-slavery era. She wrote brilliantly about how African American women survived and persevered all the horrors of slavery—and all the injustices that came after. She wrote about women who became doctors, businesswomen, principals, and so much more.
It was in this 1895 essay that Tillman wrote her now famous words: "It is owing to their liberality that we have many of the privileges that we now enjoy."
At the young age of 19, Tillman was featured, as a journalist on the rise, in Irvine Garland Penn's Afro-American Press and Its Editors (1891), a book that extensively chronicled the history of the Black press since its inception. Being published in such a prestigious book certainly helped spark her career.
Tillman believed strongly in the power of the press to cause positive change. Writing to Penn in 1891 about the value of their shared profession, she said: "I regard the press as one of the mightiest factors that move this universe of ours. So great is its influence, so powerful its results, I verily believe that if we, through any unseen force, should lose our free press, our republic would be shattered."
Tillman's words always made a difference and her work remains powerful today. Katherine Davis Chapman Tillman was an accomplished journalist and a true pioneer.
[Sources: Associated Press; oxfordreference.com; blackpast.org]