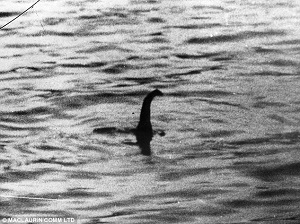 Most of us have probably heard about the Loch Ness Monster. Most of us also probably believe that the legend of this sea monster isn't true. But, did you know that there have been some sightings of a Loch Ness Monster right here in Wisconsin?
Rock Lake is only 20 miles from Madison and 87 feet at its deepest. Divers say the water is silty and murky in some places, which makes it a great place for an animal – even a Loch Ness Monster – to hide. In the late 1800's, a serpent-like creature was seen along the shallows of Rock Lake. Some described the creature as aggressive and claimed that it hisses at onlookers. Other witnesses disputed these claims. One person thought it resembled a huge dog.
Ho-Chunk legend also alleges that a huge and terrible monster lives in Rock Lake. Elders of the tribe claim the monster has a large head, great jaws, and a body like a serpent's. Legend indicates that several of these monsters live in Rock Lake, in fact.
A few miles from Rock Lake lies Red Cedar Lake, which covers 1,890 acres and has a depth of 53 feet. One time in the 1890's, the "Red Cedar Lake serpent," the very same creature thought to be in Rock Lake, went on a rampage. The serpent was described dragging live animals from nearby farms into the water. Later, the animals partially devoured remains were found in the shallows. In 1890, a farmer claimed to see a serpent around 40 feet long take one of his hogs into the water.
A year later, the serpent was supposedly seen again by a fisherman who was tying up his boat. Many others reported seeing the same serpent at the same time as the fisherman. One witness even stated that the creature had a very large head and saw-like teeth. In 1892, the same mysterious creature was accused of partially devouring five sheep. Residents of Lake Ripley, a body of water connected to Red Cedar Lake by an underground stream, began to panic. They closed their cottages and fled to their city homes.
Because the serpent was seen in both lakes at that time, some thought that Rock Lake and Red Cedar Lake were connected by an underground river. There have been no recent sightings of this serpent-like monster. Could it have been a type of crocodile or other aquatic species that has died out? Could it simply have been the stuff of legends? Or was it the Basilisk from Harry Potter and the Chamber of Secrets? We may never know.
[Source: Cryptozoo-oscity]