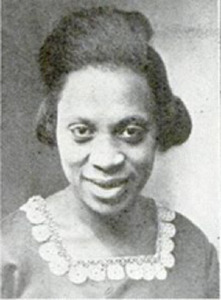 Lucy Wilmot Smith was born on November 16, 1861, in Lexington, Kentucky. She was one of seven children, raised by her widowed mother, Margaret, who worked as a housemaid. In spite of her humble beginnings, and although she died at a young age, Lucy Wilmot Smith grew to become an influential writer, educator, speaker, and journalist.
From an early age, Smith was subjected to the hardships her mother experienced being the sole provider of a Black household in the south. Opportunities to generate income for the family were limited. Recognizing her daughter's obvious intelligence, Margaret worked hard to provide the best possible education for Lucy. Margaret herself was not able to read or write, but she valued education and hoped for a better future for her daughter.
In order to aid her family's financial situation, Lucy Wilmot Smith, at the age of 16, began teaching at a junior teacher training school (referred to as the "model school") at Lexington State University. She soon was promoted to principal, even though she was only a few years older than most her students. Because of the influence of her mother, Smith already knew the importance of a good education. She used her platform to encourage and push the girls at her school to succeed academically in the classroom. Smith even paid for her younger sister's tuition at the university. She also served as the personal secretary to the school's president.
Smith eventually left the school, in pursuit of a bigger platform. She wanted to amplify her ideas of gender and racial equality and reach a larger audience.
Then in the mid-1880s, Lucy Wilmot Smith officially became a journalist. She joined two Baptist newspapers where she organized, wrote, and published a women and children's column. In her articles, Smith talked of ways women could be financially independent and seek jobs outside of domestic labor. She also advocated for job opportunities for young people, encouraging them to earn money while connecting work skills and education. Perhaps most importantly, Smith wrote extensively about the importance of voting, not only among Black people, but specifically Black women (30 years before women were granted the right to vote).
Throughout her career, Lucy Wilmot Smith gave many lectures about the importance of female leadership in the church and often related it back to powerful women in history and in the bible. Among these many lectures, there was one that was especially remarkable. In 1886, at the age of 24, Smith spoke about how Black girls and women were more than just housemaids or domestic servants.
In her famous speech, titled "The Future Colored Girl," she explained there were far more fields for women to pursue than domestic servitude. "Give the girl the same freedom in exercising as the boy, the same liberty of wearing loose clothes, the same mental food and she will accomplish the same work," Smith said. She argued persuasively that, given the same opportunities as men, women can accomplish the same things.
Then in 1889, at the age of 28, Lucy Wilmot Smith passed away from a sickness she had battled for some time. Even as the sickness processed to its final stages, slowing her down drastically, she remained devoted to her work. Lucy Wilmot Smith continued fighting and writing for the future of women until her untimely death.
Her words and her actions remain an inspiration to this day.
[Sources: New York Review of Books; wikimedia.org]