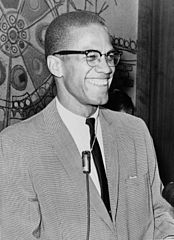 Have you ever heard of Malcolm X and wanted to learn more about him? A great African American leader, Malcolm Little was born into a hard life on May 19, 1925, in Omaha, Nebraska. Son of a Baptist minister, Malcolm and his family moved to Lansing, Michigan, in 1929 after racists burned down their home. Soon after this fire, Malcolm's father was murdered. After Malcolm's mother had a nervous breakdown, he and his seven siblings were split up and sent to different foster homes.
With little parental guidance, Malcolm dropped out of school and turned to crime. In 1946, he was arrested and sentenced to 10 years in prison. While in prison, Malcolm began to educate himself. He joined the Nation of Islam, a black supremacist group led by Elijah Muhammad. Also during this time, he took "X" as his last name. To him, this signified the loss of his African tribal name when his ancestors were sold into slavery and given the name "Little."
By the time he was released from prison, Malcolm X was a changed man. He was determined to turn his life around. Malcolm X soon became famous for his charismatic speeches. Though he initially worked hard to grow the Nation of Islam, he broke with this group in 1964 and formed the Organization of Afro-American Unity.
After traveling to Mecca, the holiest of Muslim shrines, Malcolm X changed the focus of his speeches. He began to advocate for racial integration rather than racial separatism. Because of this change in perspective, however, Malcolm X lost favor with some members of the Nation of Islam.
On February 21, 1965, Malcolm X was shot and killed by three assassins from the Nation of Islam who did not support his transformed views. It remains unclear if the FBI—who had him under surveillance at the time—played a role in his death.
Though he died decades ago, Malcolm X is still thought of by many as one of the most influential African-American leaders. Written by Alex Haley, The Autobiography of Malcolm X is also considered one of the most significant non-fiction texts of the 20th Century. Like other great figures of the movement for civil rights, Malcolm X and his story offer a courageous legacy of truth, pride, bravery, and strength.
[Source: Americans Who Tell the Truth]