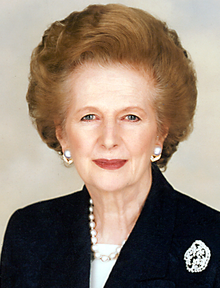 Many call Margaret Thatcher, the first female British Prime Minister, the "Iron Woman." While some say she destroyed Great Britain, others insist she worked hard to help her country's people succeed.
Thatcher was born into a happy family in Lincolnshire, England. She went to Grantham Girl's School as a child and eventually attended the University of Oxford, where she studied chemistry. At Oxford, she became the third female president of the Conservative Association.
Beyond college, Thatcher hoped to become a research chemist and maintain her political activities. Therefore, she decided to serve as both a junior minister and the Secretary of State for Education and Science in Great Britain. Thatcher ultimately decided to run for Prime Minister of Britain and was elected on October 13, 1979. As the leader of the conservative party, she focused on inflation.
However, despite Thatcher's efforts, the unemployment rate had increased over three fold by the time she took office. Despite her hard work, in 1981, Britain sunk into a devastating recession. Because of this, Thatcher began to lose popularity.
Fortunately for her, the invasion of British-owned Falkland Islands by the Argentinians in 1982 served as an opportunity to gain back national favor. Because of the choices she made during this war, Thatcher earned back favor from some of the public.
Thatcher retired on November 22, 1990. During her retirement, she created the Thatcher Foundation, which increased free global enterprise and democracy. She received the title Baroness Thatcher of Keevsteven in 1992. Many consider her one of the best life peers Great Britain has ever had.
Over the course of many years, Thatcher worked hard for her country. Although some strongly dislike her, her legacy as a woman who changed the face of Great Britain remains.
[Source: Women Who Changed the World]