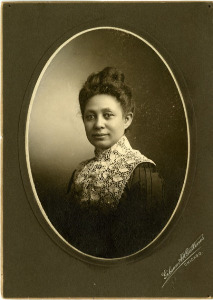 When Mary Ellen Britton addressed the Eighth Annual State Association of Colored Teachers Convention in 1887, she started with a confession. The theme of her speech was women's suffrage—a right, she admitted, she had not always believed in. Britton explained that the South she grew up in neither condoned nor supported equal rights for women. Human rights, not women's rights, was the cause for which she had always felt compelled to agitate.
By 1887, Britton was already well known for writing articles about racial injustice in local newspapers. Mary Ellen Britton was deemed a "strong-minded" woman because of her opinions and her willingness to voice those opinions.
Born and raised in antebellum Kentucky, Britton enjoyed the privileges that her parents' relatively comfortable status afforded the family, attending good schools and eventually enrolling at Berea College in 1871. But three years later, both of Britton's parents died suddenly, forcing her to drop out of school to support herself. Britton spent this next period of her life learning how to navigate a world that treated women—particularly Black women—as a separate and decidedly unequal class within the labor force.
In pushing for equality, mainly through political reform, Britton realized that women could stake their claim to power through suffrage, and "follow freely their natural gifts." Over the rest of her career, Britton amassed a reputation as a gifted teacher while continuing to publish articles in newspapers across the South. She also ran the Lexington Herald's women's column under the pen name "Meb."
Not satisfied with limiting her activism to the page, Britton often protested in the streets. In 1892, she and a group of Black women leaders demanded a statewide rejection of the Separate Coach Act, a bill that would require Black and White Kentuckians to ride in separate and unequal train cars. Also, among the small delegation of women who presented their case was Mary Virginia Cook-Parrish, an early Black feminist.
In 1897, after more than 20 years as a journalist and educator, Britton decided to pursue a career in medicine. She recognized—similar to the style of Lucy Wilmot Smith—how underserved her people were in health care. By that point, she had grieved the loss ten of her siblings. In 1902, Mary Britton became the first Black woman physician in Kentucky.
By then, Britton's career fully embodied the closing remarks she had made in that pivotal speech of 1887: "No movement of any great importance has ever taken place in the world, in which woman has not taken a prominent part as a worker."
[Sources: blacksdahistory.org; Hutchins Library at Berea College; New York Review of Books]