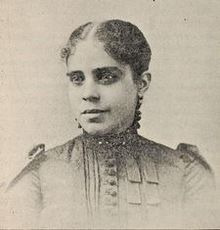 Mary Virginia Cook-Parrish was born in 1862 in Bowling Green, Kentucky. During this period in history slavery was ending, but it was not at all forgotten. It was a time of very little justice for Black Americans. Hence, it was a terrible time to be Black. And it was usually even worse to be a Black woman.
As a young girl, Mary Virginia Cook-Parrish was a bright and goal-oriented spirit. She took advantage of every educational opportunity that presented itself. Her reputation of winning spelling bee and reading contests earned her a spot at State University. After graduating as valedictorian, Cook-Parrish went on to become a teacher, and then principal of the teacher training school at State University. That is where Cook-Parrish and Lucy Smith –- a fellow Black female principal -- started their lifelong friendship.
Smith and Cook-Parrish both had a passion about advocating for the rights of women. They believed women should be able to lead in the church and in society. Both these strong women were involved with National Baptist Convention, whose activities were very important at the time. They were motivated to empower women's voices and always strove to create equality. Cook-Parrish eventually became vice president of the Baptists' Women's Educational Convention. She was a very determined women and Cook-Parrish implored others to join the cause of freedom. She was not afraid to challenge her counterparts.
Cook-Parrish's activism was put to paper when she started to pursue the craft of journalism in 1886. She wrote for many Black newspapers in the south. Using her explicit commentary and natural wit, she based most of her columns on racial and social justice.
In 1889, Cook-Parrish wrote a powerful piece for Our Women and Children magazine that gained a lot of attention. She wrote in part, "White faces seem to think it is their heaven-born right to practice civil war on negroes, to the extent of blood-shed and death."
The rest of that column was filled with underrated truth and Cook-Parrish's conviction on the topic. She wrote, "God still lives, and that which had been sown shall be reaped."
Cook-Parrish's unabashed and poignant words stirred many people, Black and white, to see American race relations in new ways. To write this kind of work in a public magazine shows her strength and her willingness to fight for the cause in which she believed. She did so for the rest of her life--no matter who was watching or reading. She reached many Americans and had great influence.
Mary Virginia Cook-Parrish believed in the cause of freedom. And her words radiated far and wide. She believed in the power of beginning. She wanted people to start seeing the world in new ways and to see a future for women in journalism. Cook-Parrish saw a world with independent, self-made, women. A world genuinely filled with joy.
In her time Mary Virginia Cook-Parrish was a living testament to these ideals. Her legacy lives on to this day. Her journalism colleagues grew to recognize the infinite amount of possibilities for women in the field of journalism. Fellow journalist Monore Majors once wrote, "Marvelous indeed is it when we take into consideration the fact that such women are indeed living realities."
[Sources: Oxford African American Studies Center; thefreelibrary.com; nybooks.com]