There Was A Time When Money Was Just Paper
But Now It Inflates and Jingles In Our Pockets
by Cristian Cruz , age 11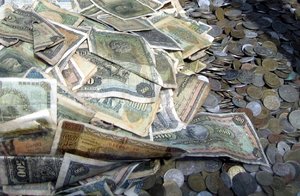 There are different types of money all over the world, each with its own distinct design and value. With so many types of currency today, it's hard to believe that there was a time before paper bills or coins. Agricultural products; strings and beads; animals; other goods; and services were traded among people before the advent of money.
Paper bills were not invented until around A.D. 1000 in China. Modern paper bills started off as vouchers from the government that could be redeemed for gold. It was not until after the 1900's that money was seen to have value of its own.
The value of money is not stable. For example if a government collapse perhaps in the event of war, its money becomes worthless. In addition if the government prints too much money or borrows too much, inflation can happen. Inflation is when money loses its value, which causes the prices of goods and services to go up.
Metal coins are another popular form of currency. An artist draws an image of the coin, including information about where it is from and how much it is worth. The image of the coin is put on a die or a metal stamp. A thin sheet of metal is cut into circles. Finally, the die stamps the image onto the blank metal circles. These newly minted coins end up jingling in the bottom of our pockets and wallets.
Checks and credit cards are two ways of paying money without paper bills. Checks are orders in writing to pay a certain amount to someone to whom you owe money. If you pay someone with a check and your bank account doesn't have enough money, your check ''bounces'' and you have to pay a fee. Credit cards are a way of borrowing money. If you charge a purchase to a credit card, you can pay the money you owe later, usually once a month. If you pay everything you owe, you will not have to pay back any extra money. But money that you owe gains interest. So if you wait to pay it off, you will have to pay the money that you owe plus interest that is a percentage of that total.
Many people have failed the important and difficult life skill of saving money. If you spend more money than you really have or don't pay it back on time, you will have to pay back interest on your loans or credit card. On the other hand if you save enough money, you can buy that video game you always wanted. If you want to buy something really expensive you might choose to invest your money, in addition to saving it. When invested in stocks, bonds, or mutual funds, your money earns more than it would in a savings account; this means more money in your pocket.
Everything costs money, so it's a great idea for everyone to know about it. While money may not be the most fun thing to keep tabs on, a good working vocabulary of financial matters can benefit anyone.
[Source: Kingfisher Children's Encyclopedia; World of Wonder]