Roaming Free in North America
How Wild Mustangs Became a Part of American History
by Jose Pedraza, age 14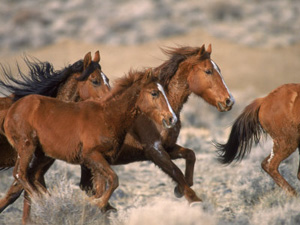 A Mustang is a free roaming horse that lives in North America. The Spaniards originally brought these animals to North America when they conquered Mexico.
Many escaped or were set free to again become wild horses. Today Mustangs are considered feral, which means humans no longer control them. Interestingly, they are descended from domestic horses and share similarities with various breeds.
Mustangs roam freely in the western United States. They roam free, mostly in the open fields of Nevada. Their established population is shrinking. Today some of these horses actually participate in horse shows, horse events, and farming. In the old days, Mustangs were used for traveling, fighting wars, trading, and hunting.
The Bureau of Land Management protects these horses. There are about 2,000 feral Mustangs roaming freely in the southwestern United States. In 1971, Congress passed an act banning the shooting and poisoning of Mustangs. Now a person can be charged with a felony and be incarcerated after committing these acts.
Congress recognized Mustangs as, "living symbols of the historic and pioneer spirit of the west, which continue to contribute to the diversity of life forms within the nation and enrich the lives of the American people." There is still a debate on whether or not Mustangs are native or an invasive species. Native or invasive, they remain a valuable symbol of the history and culture of the United States.
[Sources: Atlas of World History; Wikipedia]