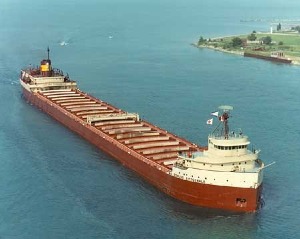 The S.S. Edmund Fitzgerald was one of the largest ships ever to go across the Great Lakes. It is very famous because people still don't know for sure how it disappeared.
This ship cost $8.4 million for the Northwestern Mutual Insurance company to build. Northwest Mutual became the first insurance company to build its own ship. The ship was built in 1957 by the Great Lakes Engineering Works.
On September 24, 1958, the ship made its first voyage. The ship transported taconite, a low-grade iron ore, and took minicoat pellets from Minnesota to steel mills close to Detroit and Toledo Ohio. The chairman of the Northwestern Mutual Campany, Edmund Fitzgerald, had the ship named after him. Edmund Fitzgerald's family members had owned and named ships after themselves too.
On November 10, 1975, a vicious storm caught up with the infamous ship, the S.S Edmund Fitzgerald. What we know is that the weather and winds were really bad and caused the ship to sink. The ship never made it to Michigan because of winds and waves. It was the ship's final trip, from Superior, Wisconsin to Detroit, Michigan. There were 28 crewmen aboard and Captain Earnest McSoley. This was to be the captain's last voyage before retirement. The Fitz was 15 miles north of Whitefish Point when it disappeared. The ship was not seen on the radar. None of the people survived. Till this day there's no actual explanation of what happened, but people have theories thinking that the ship was flooded.
Before it sank the ship had a name: The Queen of the Great Lakes, but after it sank, it was called The Titanic of the Great Lakes. An underwater navy recovery vehicle found the boat at the bottom of Lake Superior on May 20, 1976. At the annual Edmund Fitzgerald memorial ceremony, the bell that was recovered from the ship rings 29 times for the crew members that were lost, and a 30th time for an estimated total 30,000 sailors that have been lost in the Great Lakes total. At the annual Edmund Fitzgerald memorial ceremony.
[Sources: The Mystery behind the Titanic of the Great Lakes; Simpson Street Free Press Archives]